We need great people to help us achieve our 10 year strategic plan!
When human rights charity, Freedom from Torture approached The Sowerby Group about a recruitment campaign to attract Fundraising and Communications professionals, they knew they would be in good hands. Having already worked with various members of the team on previous charity recruitment projects, including the Sowerby Search & Find Service, they were confident the team would provide a great solution along with strong creative ideas for this important campaign.
A face-to-face meeting with the Fundraising & Comms team
As the only organisation dedicated solely to the treatment of survivors of torture and organised violence, Freedom from Torture takes a holistic approach to rehabilitation, catering for the unique needs of survivors. There's nothing more enjoyable than getting up close and personal with a client to find out what they are really looking to achieve from a successful campaign. In this case, the client had plenty of ideas of their own as to how they would like to showcase the charity, and even more important was the need to bring in new talent who would, within their own roles, be instrumental in ensuring that the charity could help more torture survivors around the UK.
Working with the media
Of course, we were mindful of budget and In this case, the Sowerby team had already been working with the leading job-board, CharityJob and became aware of a fabulous recruitment initiative which meant that Freedom from Torture could totally 'own' a Special Edition Newsletter and have it completely styled in the charity's branding. And so the work began.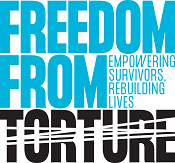 Taking the client through the steps
This was no ordinary newsletter. And this was no ordinary campaign as we were reaching out to different types of fundraising and comms professionals. When we saw the Job Descriptions, we knew we had to attract a wide-ranging audience to fulfil the wide skill-set required. So each vacancy was written with its own 'personality' to attract the best in the charity sector. Being London based roles, this was a much easier task as the charity already employs people who commute into their central location within London which is very often a bonus when looking to attract great people.
And the end result?
A Special Edition branded newsletter focused on many important aspects of Freedom from Torture and its operations. It was a sort of 'did you know' kind of document where we were able to promote the charity, its aims, eight different job roles, a video, imagery and some strong calls to action. Clients are becoming increasingly aware of the need to do things differently to attract strong talent. The charity sector is a competitive one, and one where the success of the organisation is dependent on good fundraising, focus on major gifts, supporter engagement and much, much more. It was a great project to work on, and naturally we are delighted that The Sowerby Group was the chosen agency to work with such a great team of people at Freedom from Torture.
Scroll to Top