""Leading multi-disciplined 'boutique' recruitment consultancy seeks leading digital 'boutique' agency to design and build a new recruitment website to showcase the client's unique personality""
We've been working with the Solution Recruitment team since 2008 and love how far they have come as an agency. As a supplier, we couldn't be prouder watching their business grow each year and become more in demand within the construction recruitment industry. And we have to take some credit for their brand positioning. We've designed and built a number of websites for Solution in the past. As their business changes, so does their digital strategy. But it was now the right time to create an all encompassing website that would showcase their brand, personality, attract new staff, encourage new clients and not forgetting, showcase all of the roles they have to offer across a number of disciplines. So candidate attraction was to play a big part.
Scope, Scope, Scope!
Scoping a website is the most important part. It affects the entire design and build process and is the foundation to a good working platform. As an agency, we work with a client to give them exactly what they want – and more! We look at the number of pages, the hierarchy, consider search engine optimisation, look at job search criteria based on the business and of course, the flexibility for our clients to take control of updates when the site is ready to go live. And if a client hasn't time, we can offer website updates on a retainer basis.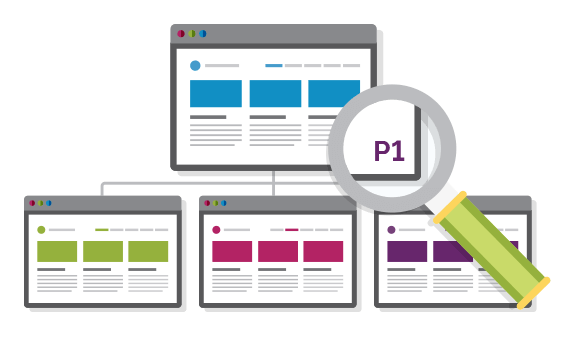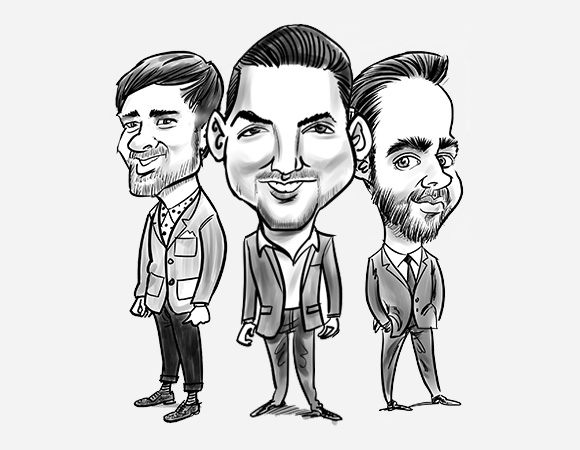 Don't change a brand that doesn't need changing!
Having taken a brief in detail at the client's London office, we decided that with a brand already established, we and the client didn't want to change the overall look and feel too much. As an agency it's important that we provide honest advice and if a brand doesn't need changing – then don't change it! Personally for Sowerby, honesty is the best policy and if something like a design isn't broken – then why fix it?
So for the website design we utilised elements such as the team caricatures, skyline hand drawing and other key branding elements to ensure that the overall look / feel remained consistent with the client's other forms of marketing material. You can check some of this out under the Solution 'Social' section.
Various page templates were presented to the client to ensure final sign off including the homepage, other internal pages, category pages, social media, contact us (including a Google Map for both office locations – a must have for SEO purposes) and more. Oh, and let's not forget, responsive page designs too for mobile and tablets!
Removal of an Applicant Tracking System
From the outset it was decided that Solution wanted to remove their applicant tracking system for the uploading of client vacancies. Whilst an ATS can be a fundamental part of the job application process, it can be expensive to maintain. With companies like Solution expanding and with more team members joining, it was extremely important that their main website could act as a job board with applications going directly to the consultant.
Sowerby worked extremely hard on this section of the website. We have to ensure that this section works perfecting. From searching for a job, to viewing a job, to applying – there is a lot of technical work to consider. Not just that, we need to ensure the hosting server is able to store information too so that nothing gets lost in transit.
In addition to a job search function, Solution wanted to build a form to allow people to upload CV's as they are on the move, without having to apply for specific positions. It's all about candidate attraction.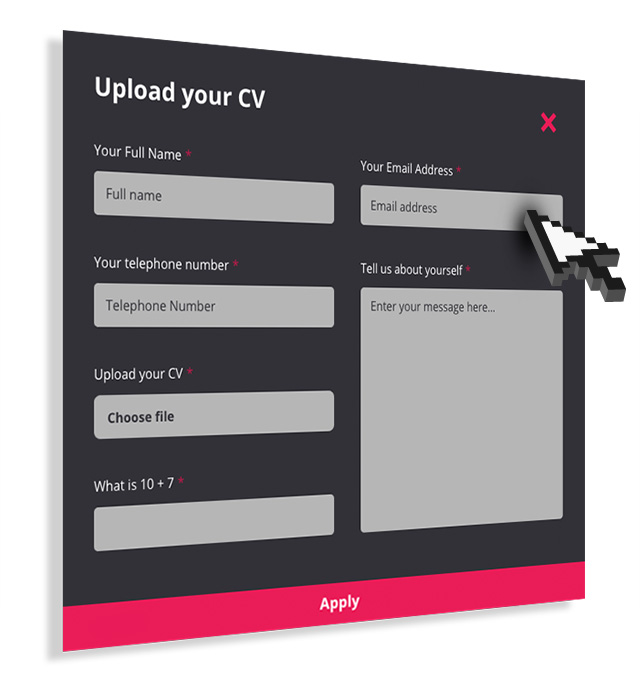 Off the shelf CMS but with a bespoke build
Here at Sowerby, we don't believe in template designs and nor do we believe in a templated backend system. That's where we believe we are different. We're extremely proud of our backend development and clients like Solution get to enjoy the benefits of this. Simplicity of updating, adding and removing pages, inserting images and more!
Once page templates have been approved, our team move on to the website build, building various page templates within the CMS system, WordPress in this case. Why do we use WordPress? It's reliable, trustworthy and is constantly evolving. Once built, we provided our clients with a testing site where they have the opportunity to move around the pages freely, using and testing the website as they would when live. Content population is offered as part of our build process as well as image insertion and manipulation so we take all the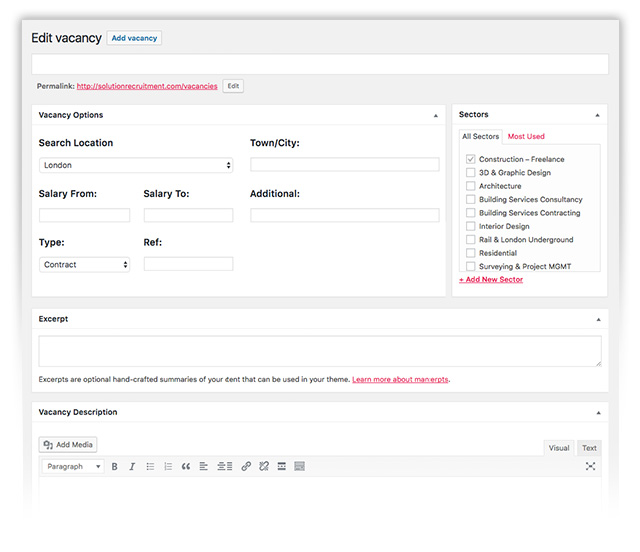 The end result…
Take a look for yourself. www.solutionrecruitment.com A fully functional, responsive website specific to the recruitment industry. Client and candidate driven, built with Search Engine Optimisation friendly code for us to take the client's digital strategy to the next level.
Scroll to Top