Solution Recruitment Advertising
"WE WANT ADVERTS THAT ARE RISKY AND DIFFERENT"
Being specialists in media planning/buying and the design of eye-catching advertisements (yes, we've won awards too), when this project come through we knew we were the right people for the job. Especially as we have oodles of experience within the recruitment industry and not to mention the sectors Solution Recruitment specialise within – building, construction, property and engineering.
We met with the client, a group of lads, and instantly knew that we had to 'up our game' and produce designs that would not only win them candidates and clients, but a campaign that would put them and their company on the map and be seen as a competitor within quite an aggressive industry.
"LET'S BE RISKY"
"Good publicity or bad publicity – it doesn't really matter, as long as it gets us noticed" one of the directors said. They wanted a campaign mainly targeted towards candidate attraction as at the time it was a candidate driven market.
We come away from the meeting thinking how far do we take this? How risky can we be? What kinds of adverts will the publishers accept?
From the moment we left Solution's head office in Essex, we couldn't wait to get started on this campaign. Within our presentation, we threw in a few possibilities – some off the wall, some very border line, some quite reserved. The 'Found it yet?' campaign was instantly chosen – it was simple yet effective. It was flexible – you could add to the campaign as you went on. It could be used for candidates and clients. And the imagery could be seen as risky for some!
These adverts ran in various trade publications – Construction News, Contract Journal, Architect's Journal, Building and CIBSE.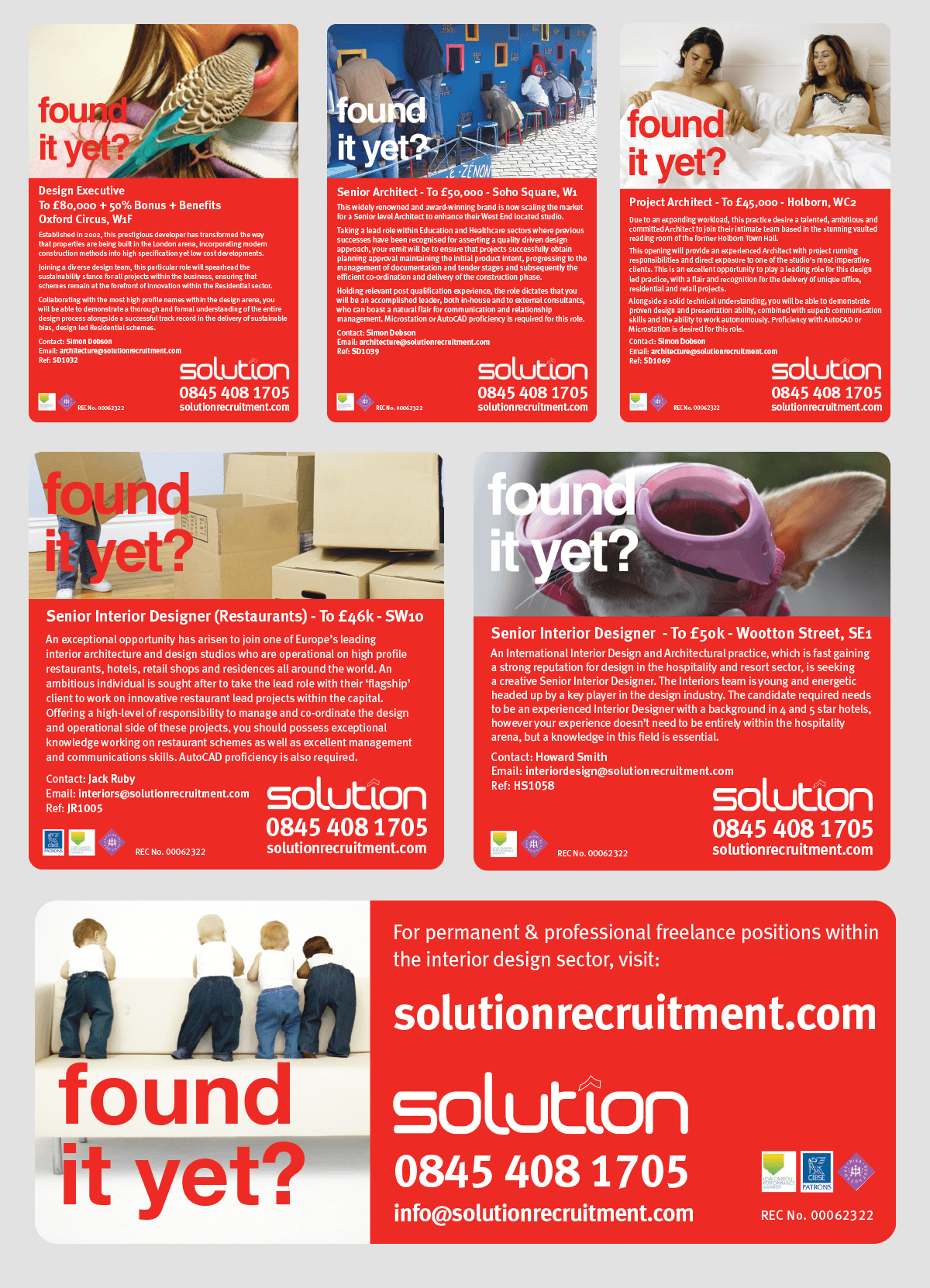 Scroll to Top