Have you 'Herd About MK'?
Well our client, Capital Space did and their Milton Keynes Business Centre signed up to sponsor this widely known event taking place to celebrate Milton Keynes 50th Anniversary in 2017. As part of their sponsorship, they received a real life sized concrete cow, yes you heard that right… to brand as their own – and this is where Sowerby got involved.
Holy cow this is a bit of a different
It's not every day that a creative agency like Sowerby receives a request to brand a real life sized cow. Challenging, you could say that, but of course we're always up for a challenge. With rough budgets accepted, we were ready to get our creative juices flowing and boy, this cow was the top of conversation for weeks!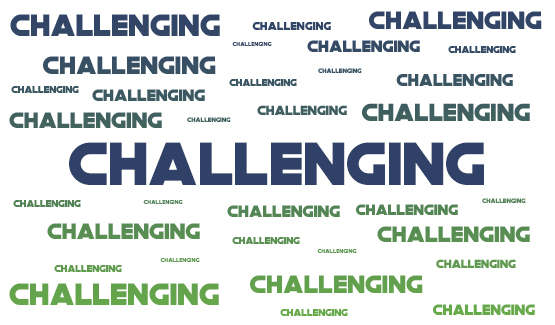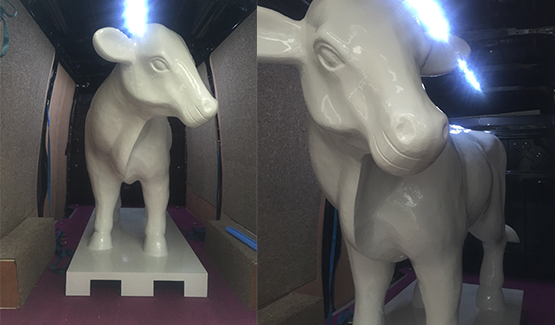 Mooving on – kick off meeting!
Nicola and Sue met with the Capital Space's General Manager and MK Business Centre Manager to discuss the project in detail. This included discussing some initial ideas. It was good for us to see the surroundings of the Business Centre in person and ensure we kept everyone happy with what we were about to produce. We like nothing better than to take a brief in person as you get to know each individual a bit more to understand their likes and dislikes.
Whilst at Milton Keynes, the organisers of Herd About MK also attended the meeting where we discussed the sponsorship package in detail. It was important for us to fact find as much as possible so in normal Sowerby style, we asked lots of questions including aims, goals, strengths, weaknesses, key dates, other sponsors, the brand, deadlines, location of cows, opening ceremony and more!
And in the back of the large van, there stood a cow! Yes, we were branding one!
Back to Essex – time to get creative
On our return to Essex Nicola headed up the project alongside Pav, one of our graphic designers, to prepare a range of concepts to put forward. For us, it was about putting Capital Space on the map amongst some very well known brands such as Red Bull, PwC, rightmove, Santander, Taylor Wimpey, Bosch and more. We also needed to showcase the range of services that Capital Space as a business has to offer.
Having put a range of concepts forward, the 'Space Cow' concept was a clear front winner so it was time to make this concept work.
It needed to be simple, yet effective. It needed to attract people to find out more, to connect with the B2B community mainly, but also to allow people to know that Capital Space were in the Milton Keynes space.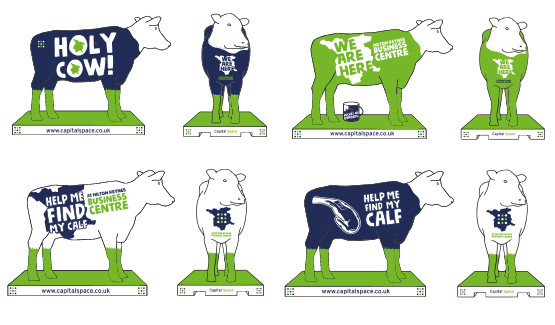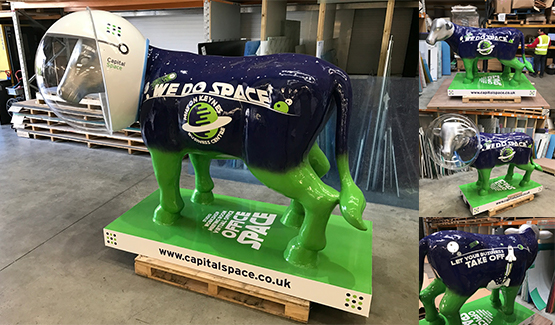 Concept chosen, time to get printing!
Whilst we have a number of preferred print suppliers, we knew this project was most suitable for Dan and his team at Advanced Digital Graphics. For the past 10+ years we have worked with them. Every project is treated as priority and they go the extra mile when it comes to advice, guidance and perfection. This was no different for our cow and whilst it was challenging to wrap the vinyls, and a big job to make the acrylic helmet fit – it came out 100%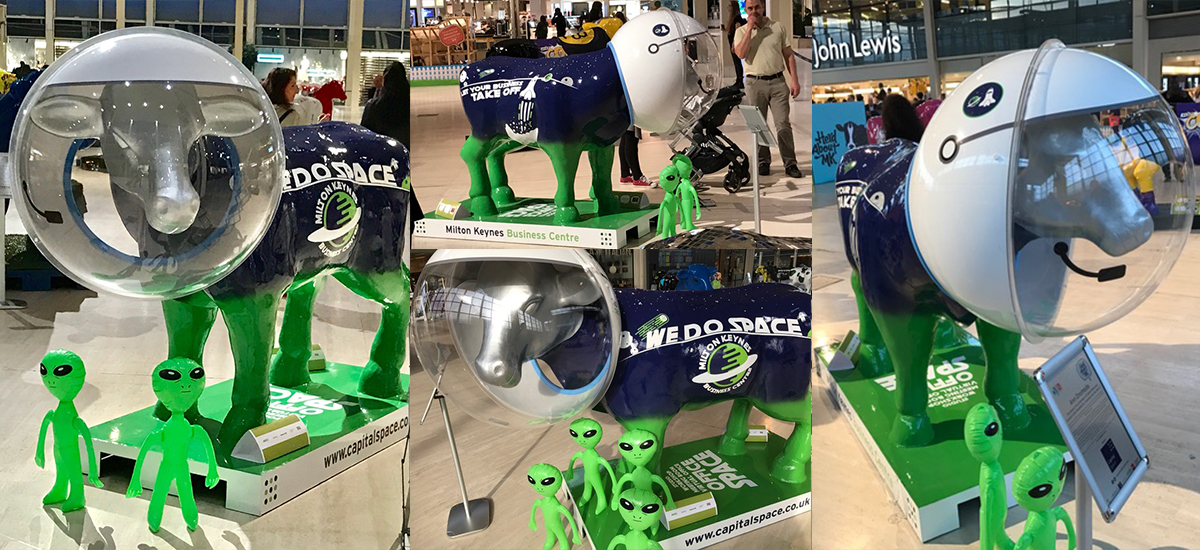 We need great people to help us achieve our 10 year strategic plan!
When human rights charity, Freedom from Torture approached The Sowerby Group about a recruitment campaign to attract Fundraising and Communications professionals, they knew they would be in good hands. Having already worked with various members of the team on previous charity recruitment projects, including the Sowerby Search & Find Service, they were confident the team would provide a great solution along with strong creative ideas for this important campaign.
A face-to-face meeting with the Fundraising & Comms team
As the only organisation dedicated solely to the treatment of survivors of torture and organised violence, Freedom from Torture takes a holistic approach to rehabilitation, catering for the unique needs of survivors. There's nothing more enjoyable than getting up close and personal with a client to find out what they are really looking to achieve from a successful campaign. In this case, the client had plenty of ideas of their own as to how they would like to showcase the charity, and even more important was the need to bring in new talent who would, within their own roles, be instrumental in ensuring that the charity could help more torture survivors around the UK.
Working with the media
Of course, we were mindful of budget and In this case, the Sowerby team had already been working with the leading job-board, CharityJob and became aware of a fabulous recruitment initiative which meant that Freedom from Torture could totally 'own' a Special Edition Newsletter and have it completely styled in the charity's branding. And so the work began.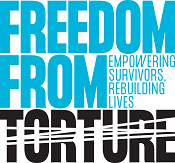 Taking the client through the steps
This was no ordinary newsletter. And this was no ordinary campaign as we were reaching out to different types of fundraising and comms professionals. When we saw the Job Descriptions, we knew we had to attract a wide-ranging audience to fulfil the wide skill-set required. So each vacancy was written with its own 'personality' to attract the best in the charity sector. Being London based roles, this was a much easier task as the charity already employs people who commute into their central location within London which is very often a bonus when looking to attract great people.
And the end result?
A Special Edition branded newsletter focused on many important aspects of Freedom from Torture and its operations. It was a sort of 'did you know' kind of document where we were able to promote the charity, its aims, eight different job roles, a video, imagery and some strong calls to action. Clients are becoming increasingly aware of the need to do things differently to attract strong talent. The charity sector is a competitive one, and one where the success of the organisation is dependent on good fundraising, focus on major gifts, supporter engagement and much, much more. It was a great project to work on, and naturally we are delighted that The Sowerby Group was the chosen agency to work with such a great team of people at Freedom from Torture.
What's the saying?
The Only Way Is Essex!
Based in Essex, with staff born and bred in Essex (we're not all orange by the way) When we were given the opportunity to work with one of the largest organisations based in Essex – Essex County Council, quite naturally we jumped at the chance!
Taking things outdoors…
Originally introduced to Essex Outdoors who offer residential and outdoor education programmes, the Essex Outdoors team were on the look out for an event management company who could work with them to develop their first Outdoors event for Head Teachers across Essex – primary and secondary schools. Unfortunately, after being awarded the project, this event was put on hold, however due to the strong working relationship between agency and client, we were given a number of design and print projects including a direct mail campaign, Christmas posters and flyers, gift vouchers, a 2 day ski diary for children and more!
It's always great to get creative whilst enjoying a
fantastic client / agency working relationship!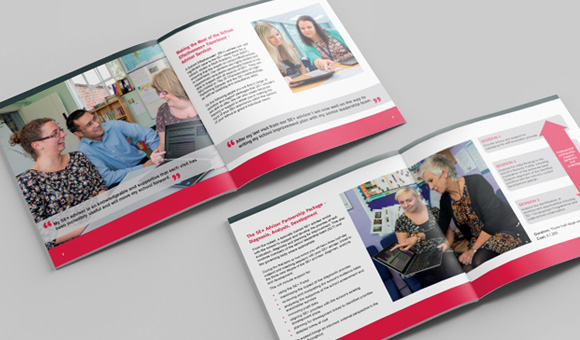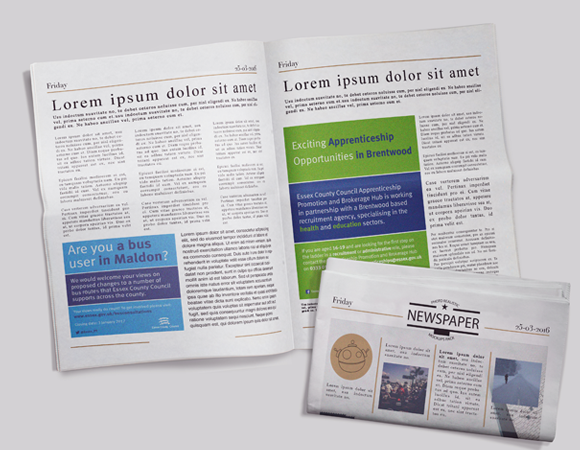 Education and Lifelong
Learning at its best!
The next project was from the Council's Employability & Skills Unit who were looking to promote their apprenticeship's hub across Brentwood and Basildon. Highly recommended by other internal departments, the team contacted Sowerby to work on their media planning / buying campaign for this key project. Within a very short timescale (we had a very tight deadline to meet), we liaised with the media negotiating rates for a 4 week campaign to be advertised within the run of paper section of the Brentwood Gazette and Basildon & Southend Echo. Artwork was provided by their internal team, where Sowerby proof read and prepared for sending off to print. The Council enjoyed a very quick turnaround, big discounts negotiated by the agency teams and were presented with just 1 invoice at the end of the month outlining all media transactions. Nice and easy… Just how we like it to be!
Taking the Highway…
Like many projects we undertake here at Sowerby, the highways team contacted us with a very last minute campaign for their bus consultation services. With limited numbers covering Epping and Braintree, the team found a little budget to push their bus consultation services within these key areas. With no time to work on our preferred choice of media… Can you guess it? Yes, bus advertising, we worked on a run of paper press campaign to be placed in that week's press. Contacting the Epping Forest Guardian Series, Braintree & Witham Times and of course the Essex Chronicle Series, we managed to turn around this advertising campaign within a day. The result was outstanding with increased numbers, which was fantastic!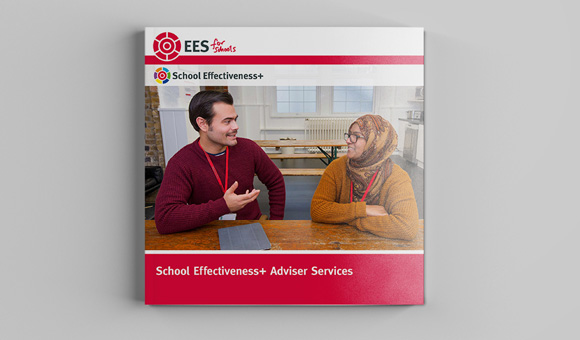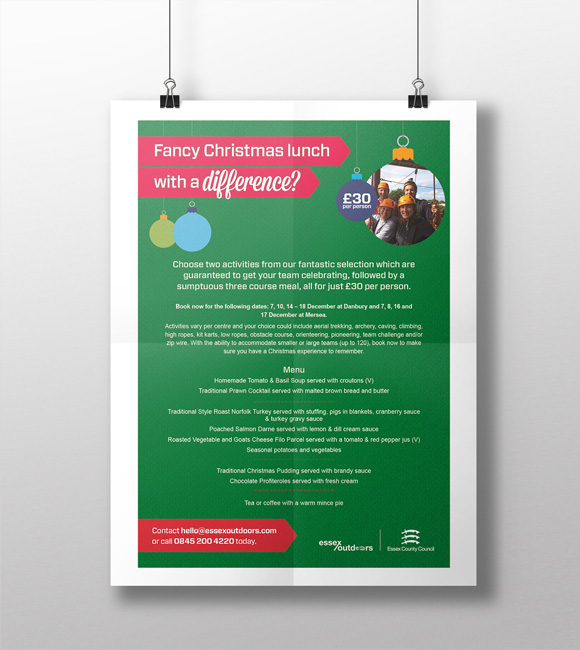 When you recycle your old clothes, they can do amazing things…
They can travel the world as dusters on aeroplanes!
They can help keep people safe by stuffing car seats!
They can even be used to repair other clothes.
And, if you don't love those old jeans – someone else will – so take your good stuff to a charity shop!
All textiles can be recycled – including torn clothes, odd socks and even your old pants!
Don't bin your old threads – let them do amazing things.
Find out more about recycling your clothes in Essex – visit Recycle for Essex dot com
This was the script produced for the Essex County Council recycling team who ran a radio advertising campaign across Heart FM project managed and purchased by the Sowerby team. We worked closely with the radio station, carefully selecting the most appropriate music and voice over to deliver this campaign. Various scripts were presented – it was important that we got this absolutely!
Fancy hearing it for yourself?
Let's switch together…
Essex County Council were looking to promote its annual Essex Energy
Switch initiative to as many residents as possible – and particularly Essex people in the lower age bracket as well as those in the higher age range bracket – and of course anyone else who falls between those age ranges. With the social media element taken care of in-house, Sowerby were asked to purchase and negotiate the media space on their behalf as we had done a good job for the other divisions.
Running through December and January within the East Anglia Daily Times, Essex Chronicle Series, Basildon & Southend Echo and the Harlow Star – millions of people can save money by switching with Essex!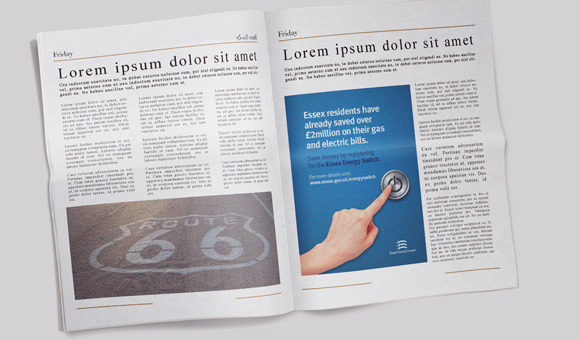 Dear Santa
My name is Ruby, I do help my mummy but really she needs someone to
help and support her because she doesn't have a carer anymore. So this
Christmas, please can we have someone to help care for her so she can
stop worrying about me.
There are lots of child carers like Ruby looking after relatives at home.
Could you consider a rewarding career in care so they too can have a
worry free Christmas?
Come to our Gift Of Care jobs fair in Chelmsford, on the 29th of
November.
Visit Essex Gift Of Care Dot Org Dot UK for details
This was one of the latest radio campaigns Sowerby commissioned on behalf of Essex County Council who are looking to attract 100's of carers across the Essex region in 2017. This was the start of a big recruitment drive, where a number of events were held during December 2016 to start attracting for these key positions.
Fancy hearing it for yourself?

"TAKING THE SOWERBY SERVICES TO DUBAI"
The Sowerby / Menasa relationship began back in October 2012 when the owner contacted us to negotiate some job board contracts here in the UK. Having worked with our contact previously, we of course were pleased to be of assistance again.
Following the job board contract negotiations and media bookings, we embarked on a journey to look at the Menasa brand.
1ST STOP – LOGO REFRESH
When we first saw the Menasa logo, we felt that it really didn't do the company justice. Menasa searches for talent globally across a number of industry sectors so we couldn't help but recommend a bit of a refresh.
It was important that we kept to the corporate colours and promoted the global services that the company has to offer and certainly the regions that they specialise within – Middle East, North Africa and South Asia (MENASA).
When we started working on the logo, we wanted something that was professional, clean, simply, yet more modern with a global look / feel. We always present a number of ideas, but here is the chosen logo.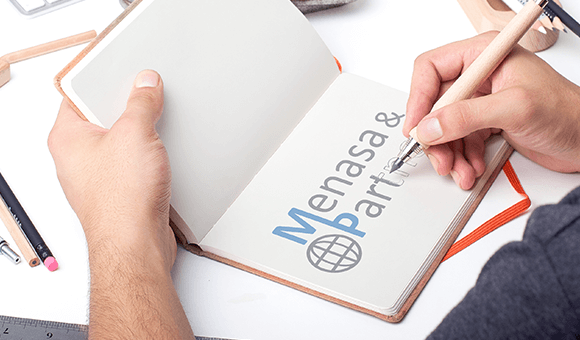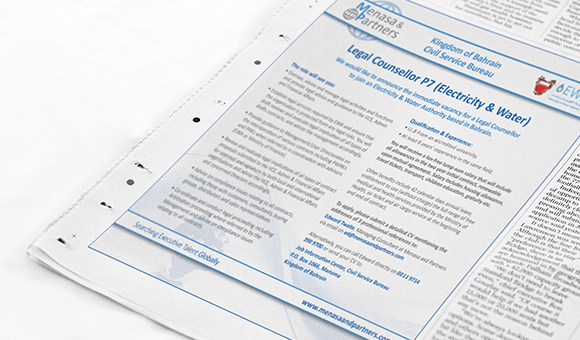 AND OUR JOURNEY
HASN'T STOPPED THERE…
We've worked with Menasa on some lovely design, print, advertising and social media projects. We continue to negotiate job board contracts on their behalf and look forward to working with them shortly on their digital requirements.
Here's a selection of the work we have delivered for the client. And when we say delivered, Nicola hand delivered some brochures when visiting Dubai on her honeymoon. Now that's customer service for you.

"WHEN TWO BECAME ONE"
We were the advertising agency for two very well known and highly respected recruitment agencies – Hill McGlynn & Associates ( HMG ) and Beresford Blake Thomas ( BBT ). Two competitors and two very different companies in terms of their approach.
We had won lots of creative awards whilst working with Hill McGlynn & Associates. Including the 'Best Recruitment Campaign' sponsored by the Daily Mail. Our work impressed the likes of BBT ( and other agencies ) so much so that they decided to embark on a journey with us too.
Then one morning, we took a call from the marketing manager at HMG who told us that she had some news… News that would need to be treated highly confidential. HMG & BBT had been bought by Randstad, the world's 2nd largest staffing solutions organisation. They were to become one and needed our help to share the news in a positive way.
With both companies' reputation at stake, with clients, candidates and let's not forget their staff, we were asked to work behind the scenes and work on a new logo. The logo needed to be branded Randstad, but had to incorporate the sectors both organisations were known for – construction, property and engineering.
In addition, we were asked to work on a campaign based on the merger. A merger that not everyone would embrace at first, but one that would benefit all concerned.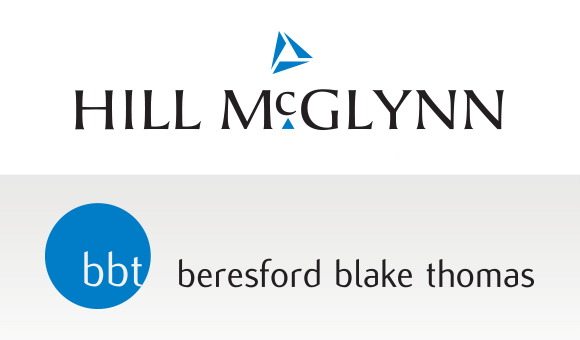 WEIGHING UP THE PROS V CONS
We'll be honest. We weren't too sure how we felt about the merger – let alone anyone else. But putting our feelings and relationships aside we considered both companies and started weighing up the pros versus the cons. Looking at the positives in more detail.
'SURELY TWO IS BETTER THAN ONE?'
With the final bullet point 'surely two is better than one', we started to explore this avenue. Two hands are better than one. Two people working together are better than one. Two wheels will make you go faster. And so on.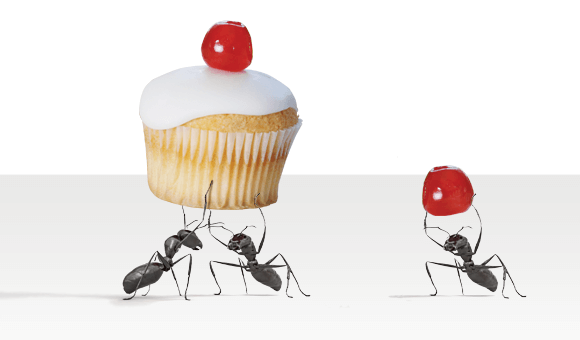 PIECING THE ADVERT TOGETHER
We knew we had to start introducing the Randstad brand within this campaign to commence the brand recognition process. Over a period of time, the campaign started to phase out the HMG & BBT logo to become one brand – Randstad CPE. We're pleased with the way this campaign was constructed and marketed carefully at such a crucial time. The campaign ran in the trade press such as Construction News, Building Magazine, ENDS, New Civil Engineer etc. In addition, we worked on many internal documents to gain the trust from employees to take this venture forward.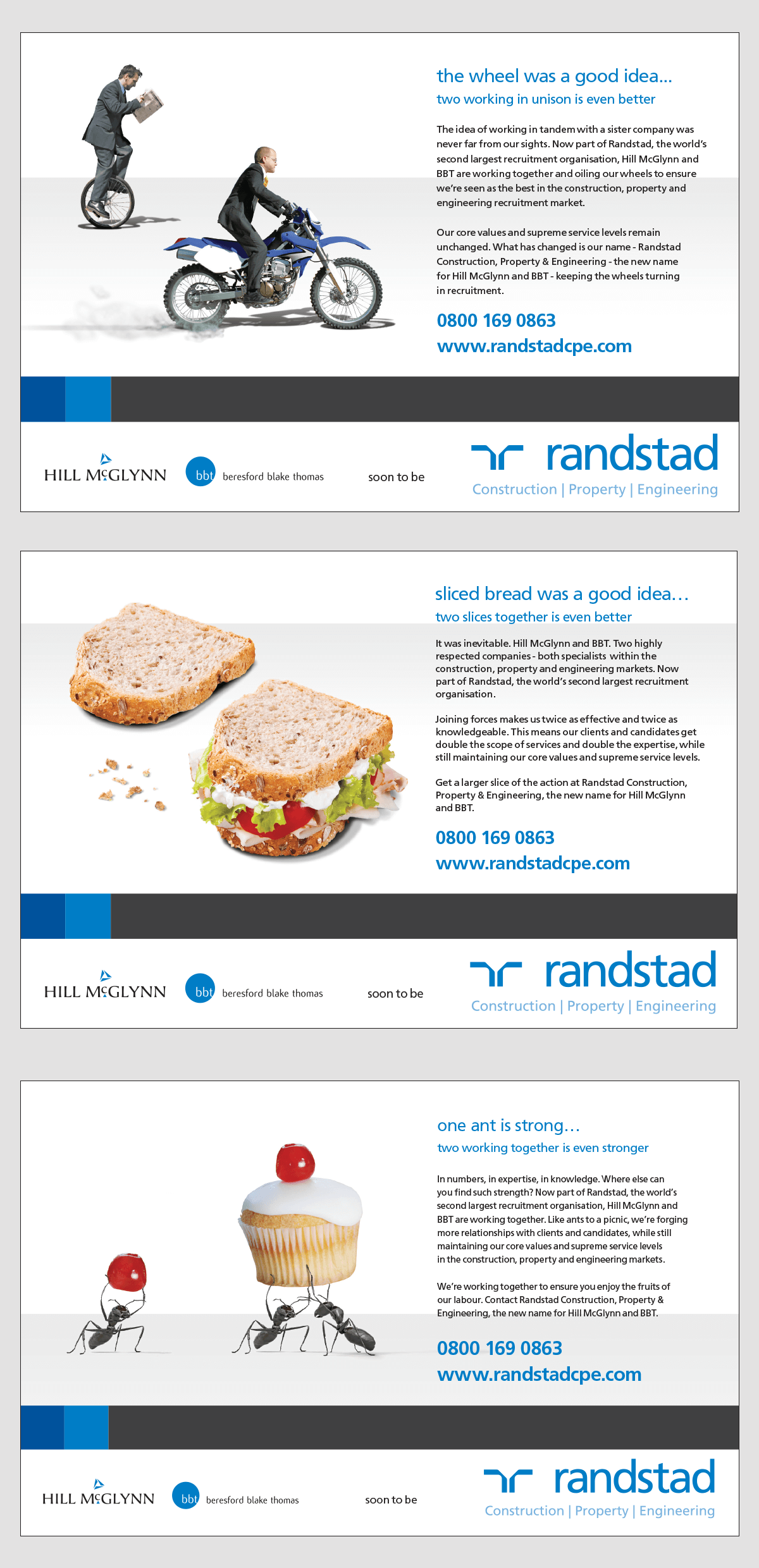 "WE WANT TO BE NOTICED IN LONDON"
A BIT OF HISTORY BEHIND THE BRAND
Invenio was an executive search and selection company based in the heart of London. The Sowerby Group were responsible for the naming of the company and the brand.
We like a good Latin word here within the agency and when we stumbled across the word 'Invenio' which means to search for, we knew we were on the right track.
Placing the name with a strapline of SEARCH: FIND: DISCOVER – which you could look at when sourcing and recruiting personnel, we knew we were onto a winner!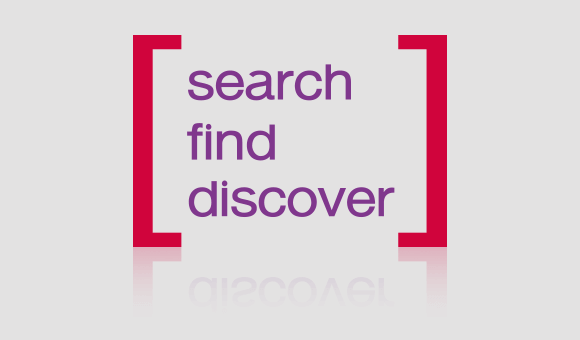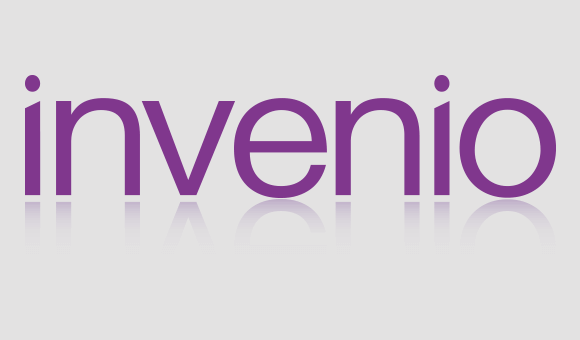 ADVERTISING THE BRAND
Operating within the construction, property and engineering market, a very competitive market at the time, the very well known, and highly respected team behind the company wanted to get their brand out there, in London. With a small budget to play with, we decided on the route of black taxi advertising. Many of the clients travel around the City via black taxis and what better way, than to see or maybe travel in an Invenio taxi.
WHY WE RECOMMENDED
BLACK TAXI ADVERTISING?
Iconic and instantly recognisable, they are part of city life which is where Invenio wanted to be. Taxi advertising is a premium advertising choice for reaching out to a mass audience. We worked with Black Taxi Advertising on a planned schedule for 3 taxis over a one year period.
We looked at possible routes, and narrowed down our choice. We purchased advertising space for the exterior and interior.
TIME TO GET CREATIVE
With Invenio being a new brand, we decided that simplicity was best. It was all about building on the brand. The logo and strapline was enough.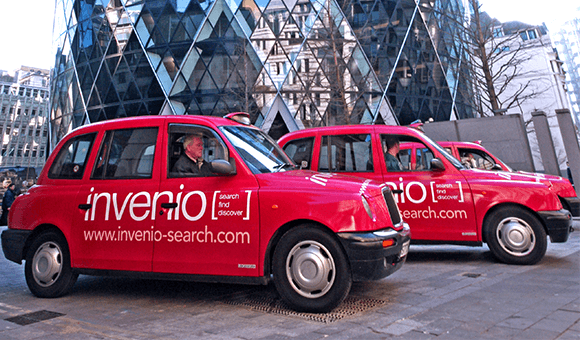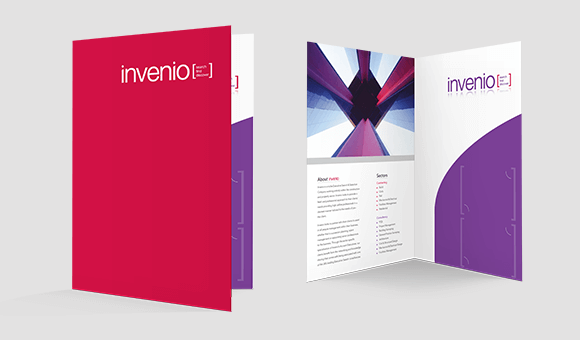 AND THE BEST PART…
Following a very important meeting with a client at the Invenio offices, a director walked the client out of the premises and was greeted by an Invenio taxi waiting to collect. We couldn't have planned that ourselves.
Unfortunately, the holding company of Invenio was purchased and Invenio as a company no longer exists but this is one for the portfolio which we are extremely proud of.
AND FINALLY…
Here's a range of material we also produced for the Invenio team.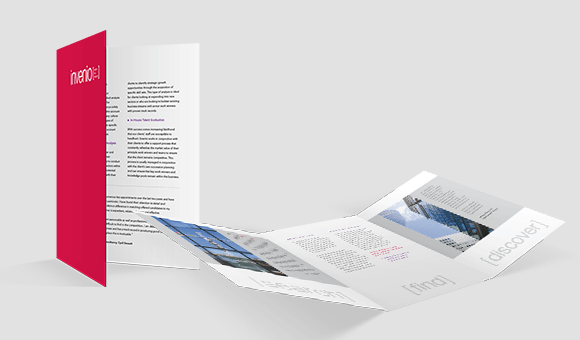 "WE'VE GOT 175 FURNITURE AND ELECTRICAL STORES AND
ADVERTISING REQUIREMENTS FOR ALL…"
Yes, that's right, Sowerby is working with this fantastic charity and handles all advertising for 175 ( last time counted ) furniture and electrical stores across the UK. We liaise daily with numerous national, regional, local and trade publications offering the BHF advertising space at competitive rates. We liaise with area managers, shop managers and marketing on the approval of advertising costs and artwork designs.
BREATHE – DEALING WITH 175 STORES
ISN'T AS STRENUOUS AS IT SEEMS…
It's simple, we're a very well organised agency / team and have systems in place for absolutely everything! Contacts, orders, reference numbers, spreadsheets, invoicing procedures, set artwork templates and yes even more spreadsheets. This allows the advertising / ordering process for each contact at the BHF to be as simple as possible.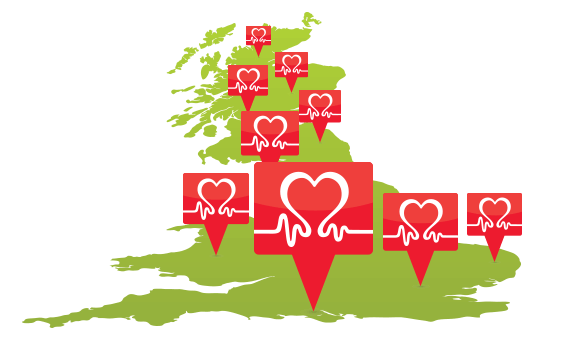 WHAT PAPER?
Because we're a media buying agency, we have contacts with all of the press. Local, national, trade, online and offline – we know who to deal with. So for us, when a store wants to advertise, we make a quick call to see what space is available and for what rate. We'll then liaise with the area managers on approval and confirm each booking with the media if required. Once booked, we'll work on the artwork and send across to marketing for sign off! We have a number of templates in situ so a booking can take less than 30 minutes.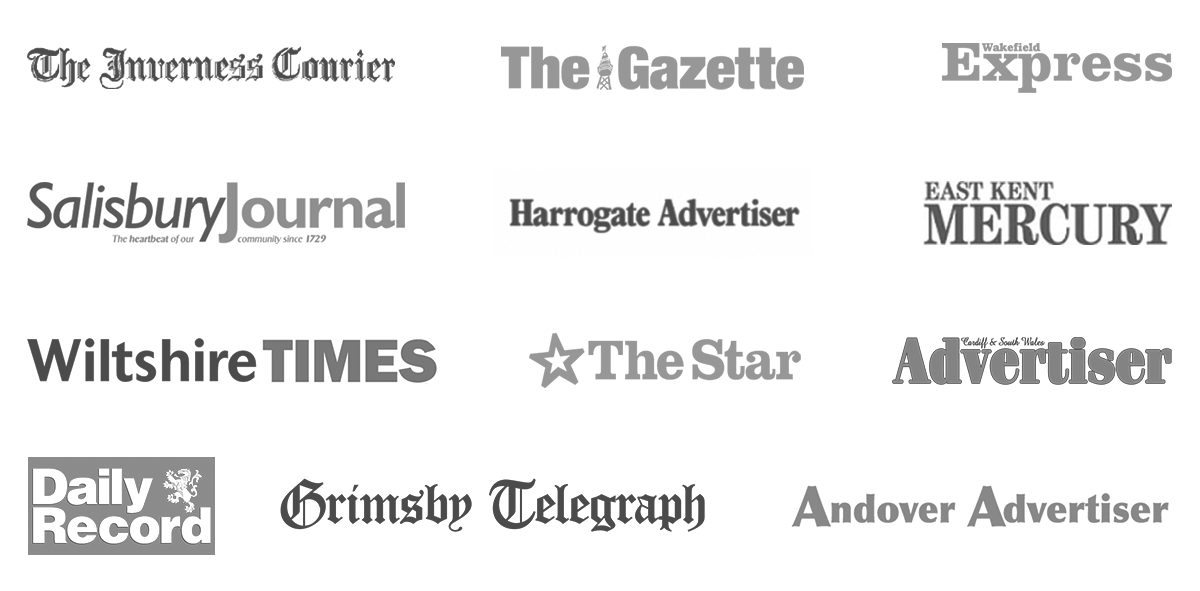 JOB DONE
With the advert sent to press, we'll update all the ad schedules in place to ensure that marketing and the area managers' figures balance. And at the end of the month, we'll send an invoice outlining all of the transactions to the client – meaning that they save time and money on resources.
Happy client. Happy agency.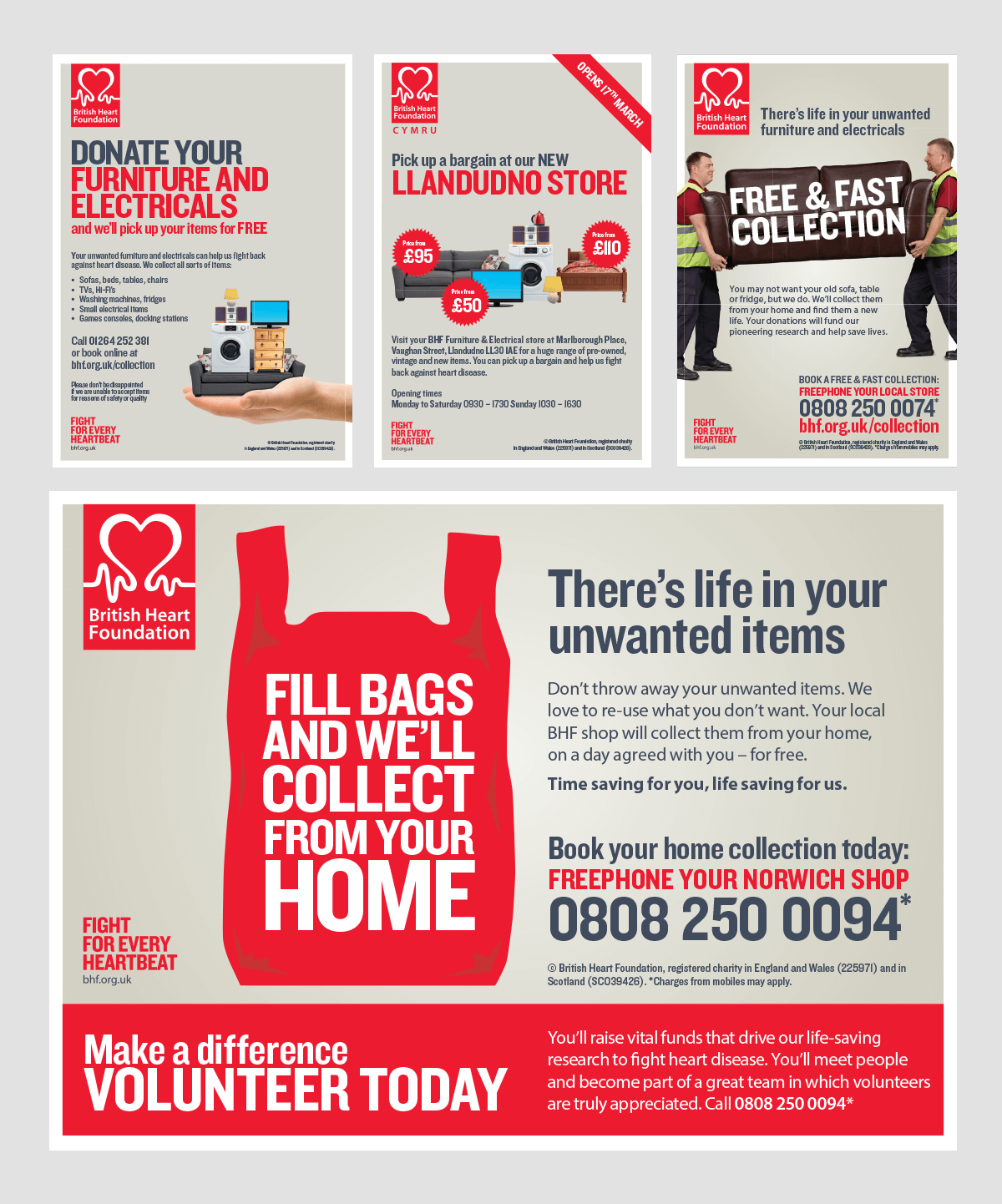 HOW DO YOU HELP A COMPANY WITH NO NAME OR BRAND?
You discuss and we listen.
At a briefing meeting, it's really important for a creative agency to discuss ideas and to listen to what the client wants and needs. Yes you may challenge them, after all that's what we creative people do, but top on the agenda is to fact find.
We meet with the client, grew to know their personalities, their aims and goals, and listened to their aspirations and their wants in terms of where they want to take their business. We understood their industry ( having worked with other clients in the same sector ), but wanted to gain more information such as their target audience, what made them different and more. Vital information required to create the perfect brand identity.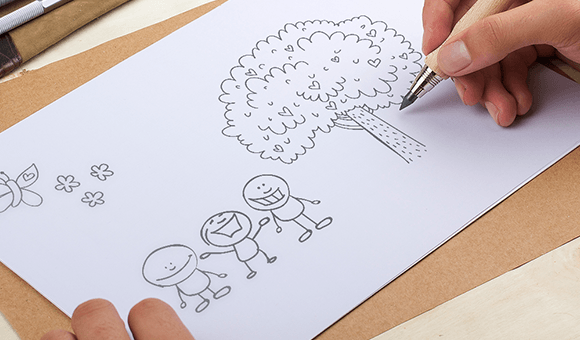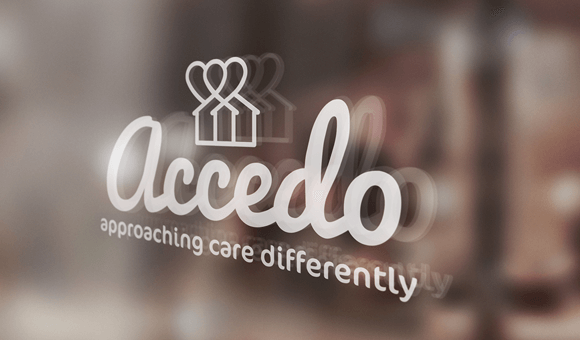 It's all in a name.
First project – company name. We wanted a name that meant something. A name that would suit their business, their market and their individual personalities. So, sat around the boardroom table with endless cups of teas and maybe a take away too, the creative team thrashed out some ideas. Carena Care ( beloved ), Totus Care ( entire ), Tirion Care ( kind, gentle ), Decorus Care ( beautiful, graceful ), Care Dedico ( to dedicate ) were amongst the initial ideas, all with perfect Latin meanings for a new care organisation. But Accedo won hands down ( Latin meaning to approach ).
After all the bad press surrounding care homes – the aim for the company was to approach care differently. It just felt right.
Logos, colours & fonts
Bright and bold colours were in fashion at the time, so in the normal Sowerby way, we wanted to do something different. Soft, pastel, complimentary colours were the route for us. In terms of the logo design, the client wanted to incorporate hearts. So in a subtle way, we built this into the logo design alongside a key concept to represent people with a feeling of residential, care, safe and secure. How anyone should feel within their home.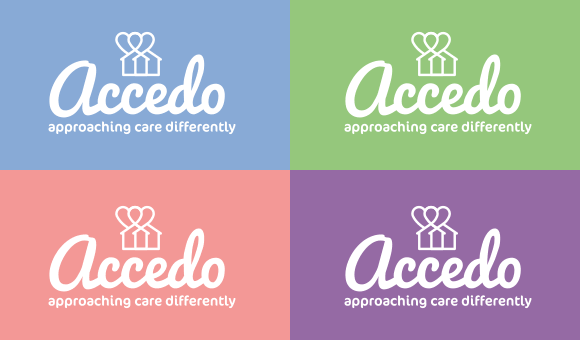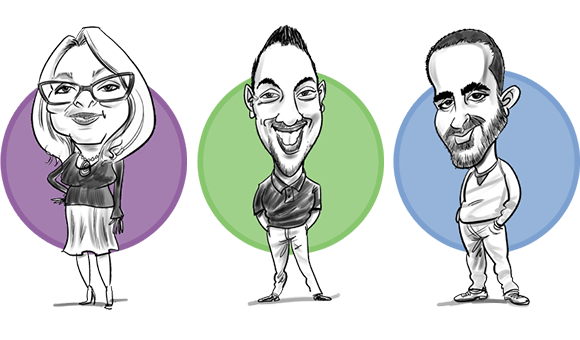 Adding personality to a brand
It was really important for us to add personality to this brand. What do you see in care homes? Pictures of people being cared for. Not the route we wanted to take for Accedo. You see illustrations of happiness, encouragement, care, homes and futures. Coupled with good use of typography and meaningful images ( Accedo is ) and caricatures of staff, the outside world can gain a really good feel for the organisation and the people working within it.
Taking things digital
A website designed and built fit for purpose. A WordPress content management system ( CMS ) to update on a regular basis with news articles, updates on services and much more.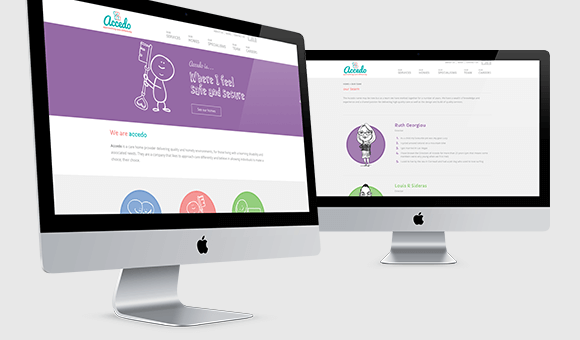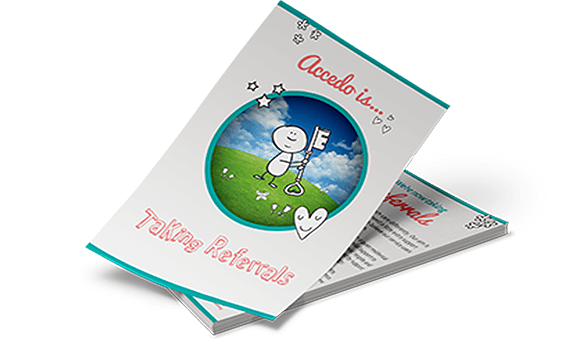 Taking the brand further – design & print
It's important to carry the brand through for all marketing material. Here are some examples of the marketing materials designed & produced by the Sowerby team.
Policy booklet
Flyers – various types
Email signatures
Email signature
Acrylics