"TAKING THE SOWERBY SERVICES TO DUBAI"
The Sowerby / Menasa relationship began back in October 2012 when the owner contacted us to negotiate some job board contracts here in the UK. Having worked with our contact previously, we of course were pleased to be of assistance again.
Following the job board contract negotiations and media bookings, we embarked on a journey to look at the Menasa brand.
1ST STOP – LOGO REFRESH
When we first saw the Menasa logo, we felt that it really didn't do the company justice. Menasa searches for talent globally across a number of industry sectors so we couldn't help but recommend a bit of a refresh.
It was important that we kept to the corporate colours and promoted the global services that the company has to offer and certainly the regions that they specialise within – Middle East, North Africa and South Asia (MENASA).
When we started working on the logo, we wanted something that was professional, clean, simply, yet more modern with a global look / feel. We always present a number of ideas, but here is the chosen logo.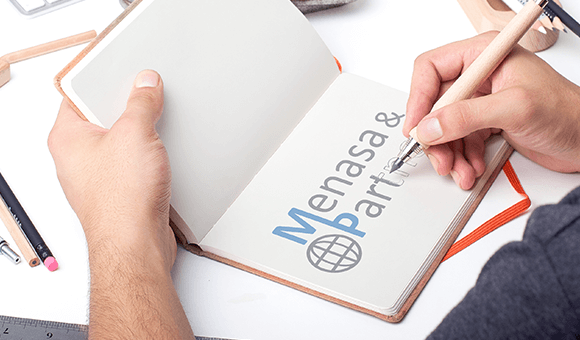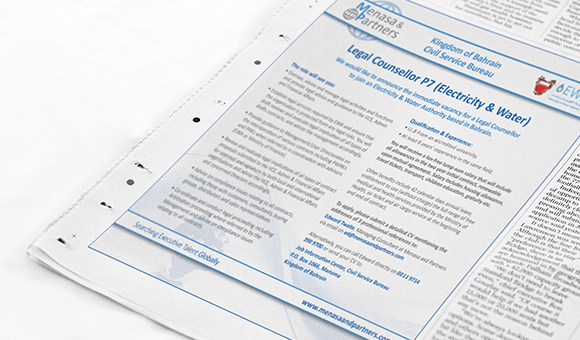 AND OUR JOURNEY
HASN'T STOPPED THERE…
We've worked with Menasa on some lovely design, print, advertising and social media projects. We continue to negotiate job board contracts on their behalf and look forward to working with them shortly on their digital requirements.
Here's a selection of the work we have delivered for the client. And when we say delivered, Nicola hand delivered some brochures when visiting Dubai on her honeymoon. Now that's customer service for you.

"WHEN TWO BECAME ONE"
We were the advertising agency for two very well known and highly respected recruitment agencies – Hill McGlynn & Associates ( HMG ) and Beresford Blake Thomas ( BBT ). Two competitors and two very different companies in terms of their approach.
We had won lots of creative awards whilst working with Hill McGlynn & Associates. Including the 'Best Recruitment Campaign' sponsored by the Daily Mail. Our work impressed the likes of BBT ( and other agencies ) so much so that they decided to embark on a journey with us too.
Then one morning, we took a call from the marketing manager at HMG who told us that she had some news… News that would need to be treated highly confidential. HMG & BBT had been bought by Randstad, the world's 2nd largest staffing solutions organisation. They were to become one and needed our help to share the news in a positive way.
With both companies' reputation at stake, with clients, candidates and let's not forget their staff, we were asked to work behind the scenes and work on a new logo. The logo needed to be branded Randstad, but had to incorporate the sectors both organisations were known for – construction, property and engineering.
In addition, we were asked to work on a campaign based on the merger. A merger that not everyone would embrace at first, but one that would benefit all concerned.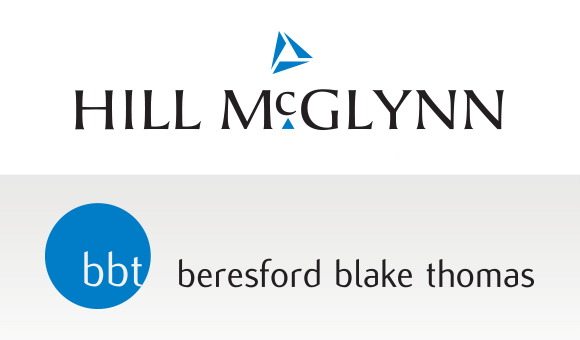 WEIGHING UP THE PROS V CONS
We'll be honest. We weren't too sure how we felt about the merger – let alone anyone else. But putting our feelings and relationships aside we considered both companies and started weighing up the pros versus the cons. Looking at the positives in more detail.
'SURELY TWO IS BETTER THAN ONE?'
With the final bullet point 'surely two is better than one', we started to explore this avenue. Two hands are better than one. Two people working together are better than one. Two wheels will make you go faster. And so on.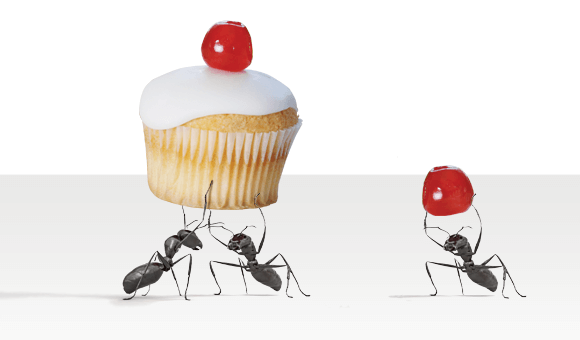 PIECING THE ADVERT TOGETHER
We knew we had to start introducing the Randstad brand within this campaign to commence the brand recognition process. Over a period of time, the campaign started to phase out the HMG & BBT logo to become one brand – Randstad CPE. We're pleased with the way this campaign was constructed and marketed carefully at such a crucial time. The campaign ran in the trade press such as Construction News, Building Magazine, ENDS, New Civil Engineer etc. In addition, we worked on many internal documents to gain the trust from employees to take this venture forward.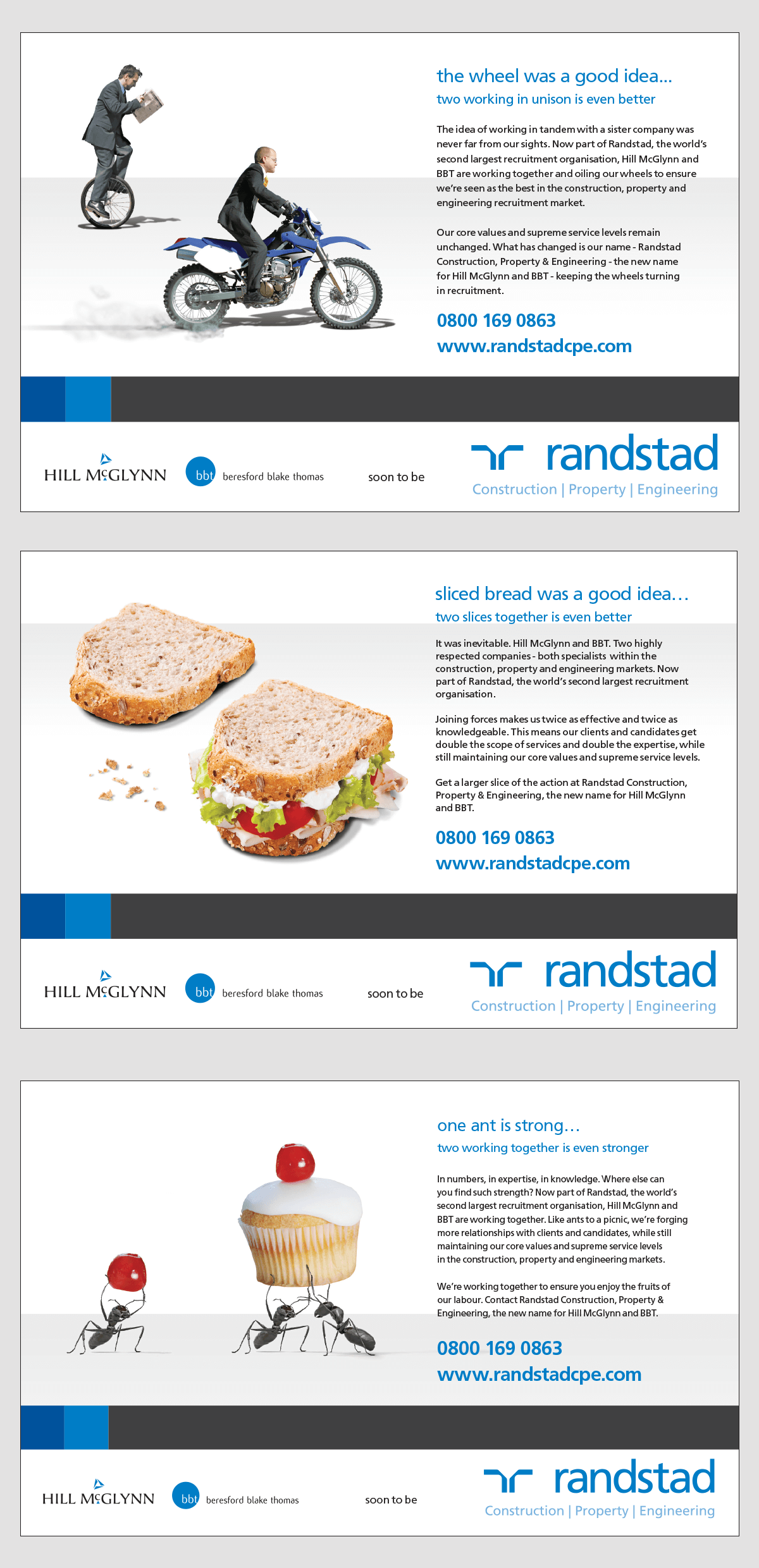 "WE WANT TO BE NOTICED IN LONDON"
A BIT OF HISTORY BEHIND THE BRAND
Invenio was an executive search and selection company based in the heart of London. The Sowerby Group were responsible for the naming of the company and the brand.
We like a good Latin word here within the agency and when we stumbled across the word 'Invenio' which means to search for, we knew we were on the right track.
Placing the name with a strapline of SEARCH: FIND: DISCOVER – which you could look at when sourcing and recruiting personnel, we knew we were onto a winner!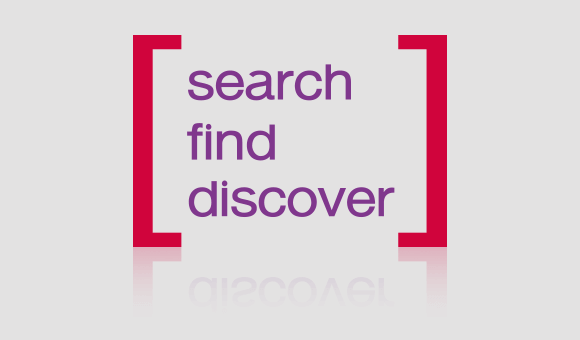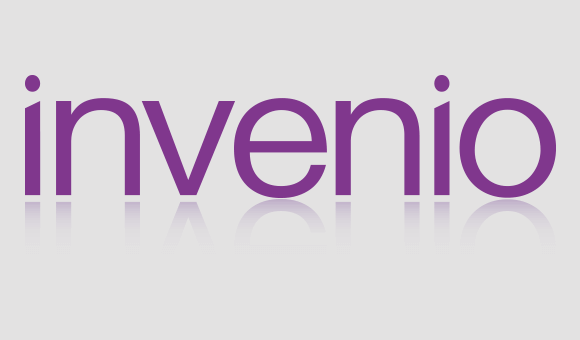 ADVERTISING THE BRAND
Operating within the construction, property and engineering market, a very competitive market at the time, the very well known, and highly respected team behind the company wanted to get their brand out there, in London. With a small budget to play with, we decided on the route of black taxi advertising. Many of the clients travel around the City via black taxis and what better way, than to see or maybe travel in an Invenio taxi.
WHY WE RECOMMENDED
BLACK TAXI ADVERTISING?
Iconic and instantly recognisable, they are part of city life which is where Invenio wanted to be. Taxi advertising is a premium advertising choice for reaching out to a mass audience. We worked with Black Taxi Advertising on a planned schedule for 3 taxis over a one year period.
We looked at possible routes, and narrowed down our choice. We purchased advertising space for the exterior and interior.
TIME TO GET CREATIVE
With Invenio being a new brand, we decided that simplicity was best. It was all about building on the brand. The logo and strapline was enough.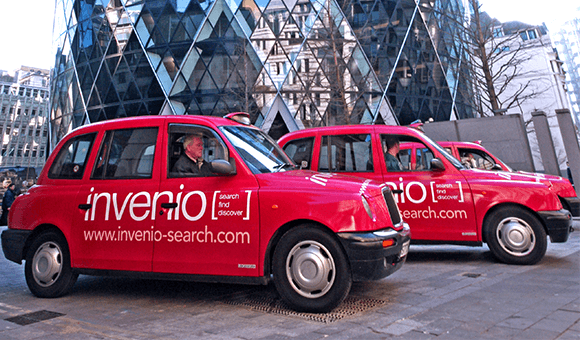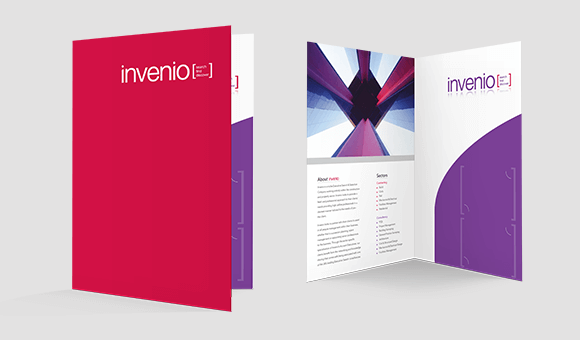 AND THE BEST PART…
Following a very important meeting with a client at the Invenio offices, a director walked the client out of the premises and was greeted by an Invenio taxi waiting to collect. We couldn't have planned that ourselves.
Unfortunately, the holding company of Invenio was purchased and Invenio as a company no longer exists but this is one for the portfolio which we are extremely proud of.
AND FINALLY…
Here's a range of material we also produced for the Invenio team.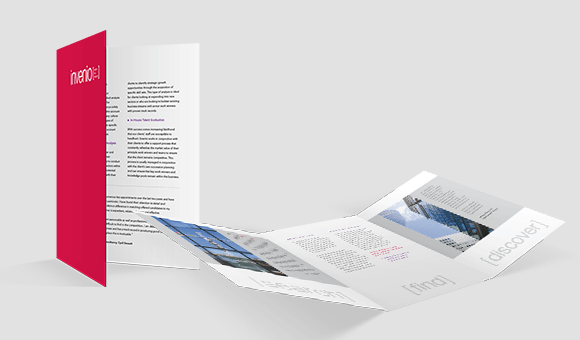 "LET'S BRING AN EVENT TO STANSTED AIRPORT"
Julie Budden, Chair of the Stansted Airport Chamber of Commerce approached us with an idea. To bring a business event to Stansted Airport on a joint venture basis. The region is booming in terms of business and the economy in general, and with so much to offer, this seemed like a fantastic opportunity. Sowerby were happy to be involved.
THE AIM OF THE EVENT
We discussed the event at great lengths a year before the first take off. What was the aim? Business to Business and Business to Consumer. Business, Travel and Careers became the link. We didn't want it to be like any other exhibition – we wanted it to be unique in terms of its offering so we were extremely selective of the companies we asked to jump onboard.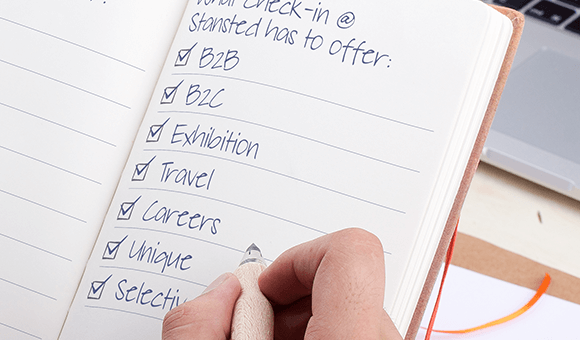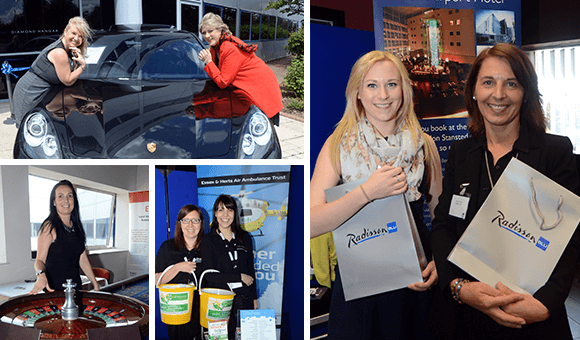 WHAT DO WE CALL IT?
The Sowerby team worked on the concepts behind the name. We wanted to tie this into the airport and what the airport offers. Check-in ( we all know what that means ) was bounced around the boardroom table and we kept on coming back to it. You can check-in to the event… We were onto a winner. So the journey of Check-in @ Stansted began…
EVENT MANAGEMENT
With any event you work extremely hard. It's not a 9-5 job. There is a lot of research, sales, planning, suppliers, negotiating and more to contend with. The first ever Check-in @ Stansted took place in 2014 at the Diamond Hangar, London Stansted Airport. And we're pleased to confirm it was a great success. 2015 will see the return. But as with any event, you want to grow it bigger and better so 2015 will take off within the Hangar itself, surrounded by executive jets and private aircrafts and with more exhibitors.
Further information about the event can be found online at
www.check-in-stansted.com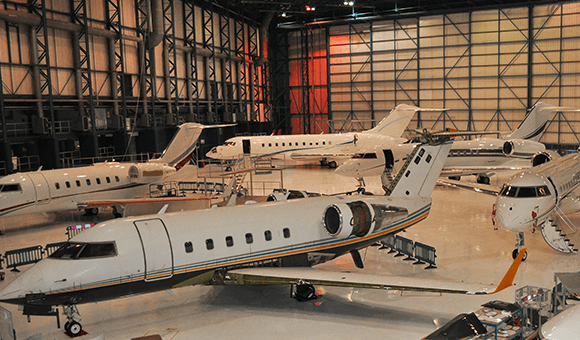 LOGO DESIGN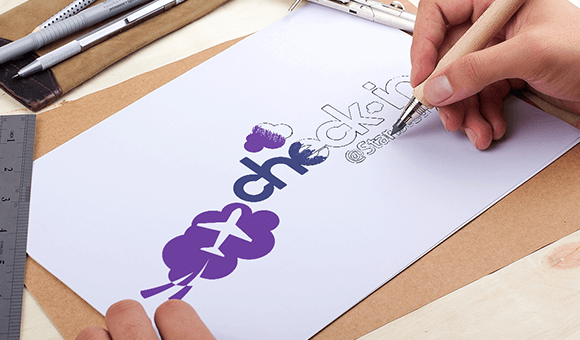 BRANDING – DESIGN, PRINT & COPYWRITING

HOW DO YOU HELP A COMPANY WITH NO NAME OR BRAND?
You discuss and we listen.
At a briefing meeting, it's really important for a creative agency to discuss ideas and to listen to what the client wants and needs. Yes you may challenge them, after all that's what we creative people do, but top on the agenda is to fact find.
We meet with the client, grew to know their personalities, their aims and goals, and listened to their aspirations and their wants in terms of where they want to take their business. We understood their industry ( having worked with other clients in the same sector ), but wanted to gain more information such as their target audience, what made them different and more. Vital information required to create the perfect brand identity.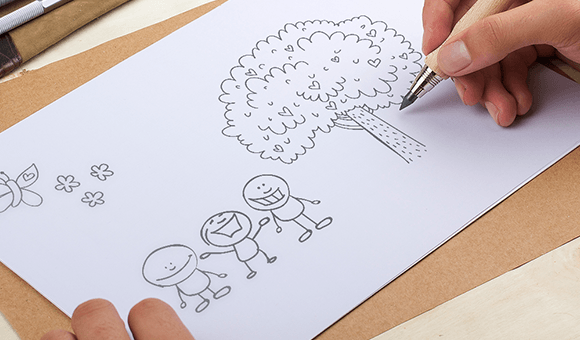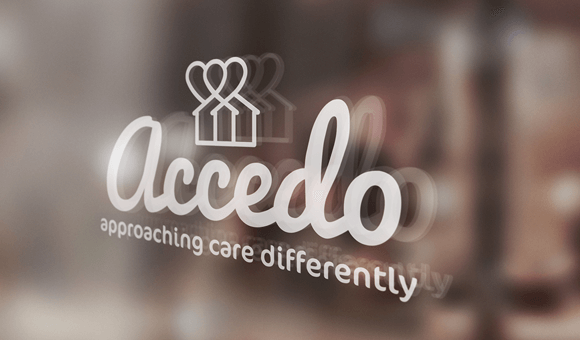 It's all in a name.
First project – company name. We wanted a name that meant something. A name that would suit their business, their market and their individual personalities. So, sat around the boardroom table with endless cups of teas and maybe a take away too, the creative team thrashed out some ideas. Carena Care ( beloved ), Totus Care ( entire ), Tirion Care ( kind, gentle ), Decorus Care ( beautiful, graceful ), Care Dedico ( to dedicate ) were amongst the initial ideas, all with perfect Latin meanings for a new care organisation. But Accedo won hands down ( Latin meaning to approach ).
After all the bad press surrounding care homes – the aim for the company was to approach care differently. It just felt right.
Logos, colours & fonts
Bright and bold colours were in fashion at the time, so in the normal Sowerby way, we wanted to do something different. Soft, pastel, complimentary colours were the route for us. In terms of the logo design, the client wanted to incorporate hearts. So in a subtle way, we built this into the logo design alongside a key concept to represent people with a feeling of residential, care, safe and secure. How anyone should feel within their home.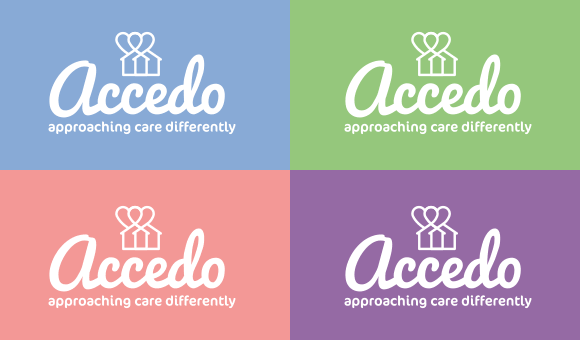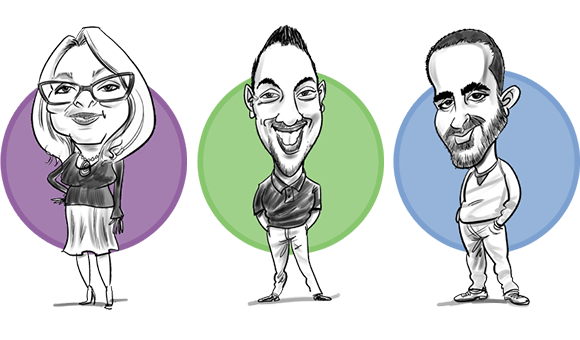 Adding personality to a brand
It was really important for us to add personality to this brand. What do you see in care homes? Pictures of people being cared for. Not the route we wanted to take for Accedo. You see illustrations of happiness, encouragement, care, homes and futures. Coupled with good use of typography and meaningful images ( Accedo is ) and caricatures of staff, the outside world can gain a really good feel for the organisation and the people working within it.
Taking things digital
A website designed and built fit for purpose. A WordPress content management system ( CMS ) to update on a regular basis with news articles, updates on services and much more.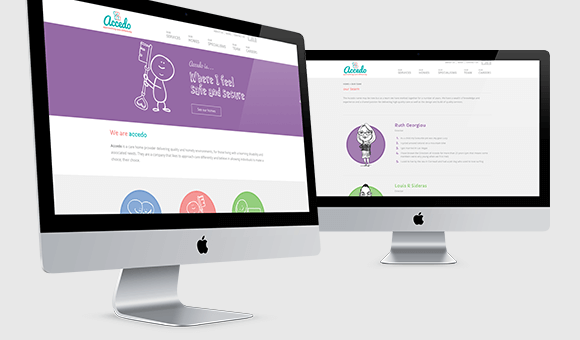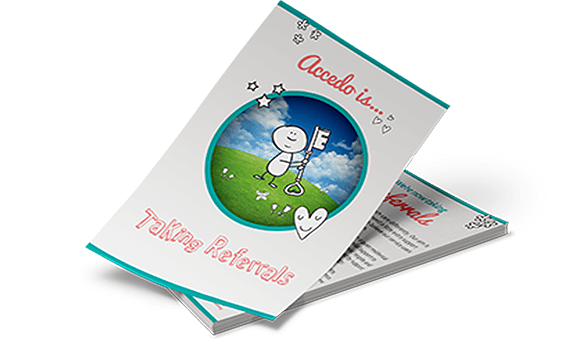 Taking the brand further – design & print
It's important to carry the brand through for all marketing material. Here are some examples of the marketing materials designed & produced by the Sowerby team.
Policy booklet
Flyers – various types
Email signatures
Email signature
Acrylics