We need great people to help us achieve our 10 year strategic plan!
When human rights charity, Freedom from Torture approached The Sowerby Group about a recruitment campaign to attract Fundraising and Communications professionals, they knew they would be in good hands. Having already worked with various members of the team on previous charity recruitment projects, including the Sowerby Search & Find Service, they were confident the team would provide a great solution along with strong creative ideas for this important campaign.
A face-to-face meeting with the Fundraising & Comms team
As the only organisation dedicated solely to the treatment of survivors of torture and organised violence, Freedom from Torture takes a holistic approach to rehabilitation, catering for the unique needs of survivors. There's nothing more enjoyable than getting up close and personal with a client to find out what they are really looking to achieve from a successful campaign. In this case, the client had plenty of ideas of their own as to how they would like to showcase the charity, and even more important was the need to bring in new talent who would, within their own roles, be instrumental in ensuring that the charity could help more torture survivors around the UK.
Working with the media
Of course, we were mindful of budget and In this case, the Sowerby team had already been working with the leading job-board, CharityJob and became aware of a fabulous recruitment initiative which meant that Freedom from Torture could totally 'own' a Special Edition Newsletter and have it completely styled in the charity's branding. And so the work began.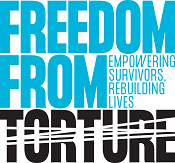 Taking the client through the steps
This was no ordinary newsletter. And this was no ordinary campaign as we were reaching out to different types of fundraising and comms professionals. When we saw the Job Descriptions, we knew we had to attract a wide-ranging audience to fulfil the wide skill-set required. So each vacancy was written with its own 'personality' to attract the best in the charity sector. Being London based roles, this was a much easier task as the charity already employs people who commute into their central location within London which is very often a bonus when looking to attract great people.
And the end result?
A Special Edition branded newsletter focused on many important aspects of Freedom from Torture and its operations. It was a sort of 'did you know' kind of document where we were able to promote the charity, its aims, eight different job roles, a video, imagery and some strong calls to action. Clients are becoming increasingly aware of the need to do things differently to attract strong talent. The charity sector is a competitive one, and one where the success of the organisation is dependent on good fundraising, focus on major gifts, supporter engagement and much, much more. It was a great project to work on, and naturally we are delighted that The Sowerby Group was the chosen agency to work with such a great team of people at Freedom from Torture.
Our products are not very glamorous, but they will bring a room to life!
Specials Lighting is a UK based lighting engineering company who design and supply lighting products to the construction industry. They offer bespoke lighting solutions of the highest quality covering an extensive product range including: recessed, suspended and surface luminaires, extruded sections, LED and CFL downlighters, ancillary luminaires and emergency lighting.
The products themselves are engineered solutions that can bring a room to life. Specials Lighting were looking for a new website which would showcase the end result as well as the diverse product range they offer. Not only that, they wanted a simple, easy to update CMS system to allow the team to update their products and case studies as they create and work on bespoke lighting projects.
We decided to build this site in WordPress, customising the front-end design and back-end for ease of use for the client.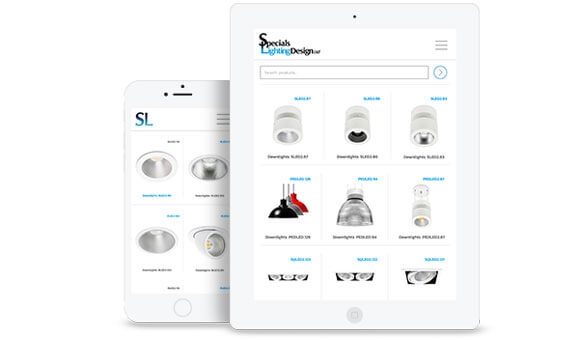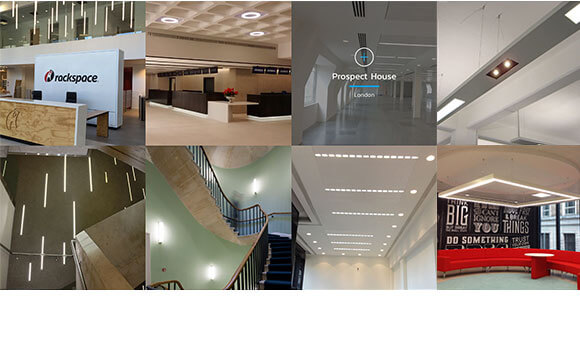 PORTFOLIO, PORTFOLIO, PORTFOLIO
From the outset, we knew that the design had to heavily promote Specials Lighting portfolio of work. And the client certainly had an impressive portfolio, with the likes of Rackspace, Somerset House, Media Edge and GSMA amongst their clients. Luckily this client always takes images when a project has been completed (something we strongly urge clients to do) so you will find no stock photography within this site.
The design created is simple, yet effective and showcases not only the case studies, but also the products in a fresh way.
DON'T FORGET WE WANT SIMPLE FUNCTIONALITY
The team at Specials Lighting are always developing lighting products and testing their minds… So the last thing they wanted was a complicated website to update.
For this project, the back-end functionality needed to be simple. We provided the client with a fully responsive design / website which works across desktops, mobiles and tablets, and the client couldn't be more happier when they received their full website training, over a cuppa at their office in Fyfield, Essex.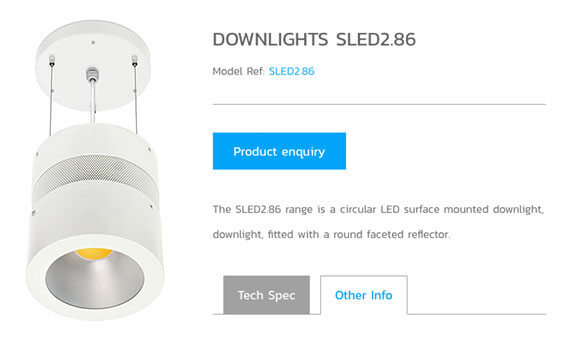 We don't design and build just ordinary websites…
We design and build quality websites that work! Oh and we can integrate too!
In a forever changing digital world, it's important that when Sowerby undertake any digital project – we do it right! Future proof, SEO friendly, mobile friendly, customer friendly and right for the target audience and market – that's exactly what we did for Girling Jones!
Girling Jones, a rapidly expanding recruitment agency based in Exeter, UK, with lots of vision for the future was in the market for a new 'sexy' website (as the owner stated) fit for the recruitment agency industry. Sowerby are known for their expertise within the recruitment sector, having worked with numerous agencies across the UK and internationally – so we were ecstatic to be given the opportunity to work on this exciting project.
"THE SITE NEEDS TO BE PROFESSIONAL, FUNKY, SHOW OUR PERSONALITY AND SEXY"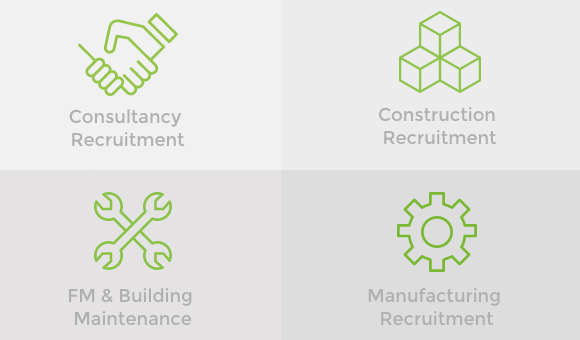 Operating within the construction, consultancy, fm and maintenance and manufacturing markets, GJ wanted to not only attract quality candidates within these areas for their clients, but also talent to join their team. This needed to be demonstrated within both the design and functionality of their website – with the extra bonus of adding in their quirky personality too.
When dealing with the GJ team, you will see that personality is a big part of their business. This we believe wins them repeat business and views them as an agency to do business with, and to work with! The imagery captures what GJ are about which is why we used great snapshots of the team in action throughout.
AND DON'T FORGET TO INTEGRATE!
In addition, GJ utilise an applicant tracking system (ATS), which posts all of their vacancies through to various job boards. Unfortunately integrating Broadbean within the CMS of the new website caused issues in terms of SEO (which was high on the client's agenda) so in addition to the scoping, design, build and integration, we developed an API to allow us to optimise all vacancies that pull through from their ATS to the website. This came with challenges, mainly time, but we got there in the end and are extremely proud of the functionality of this website as a whole!
Take a look for yourself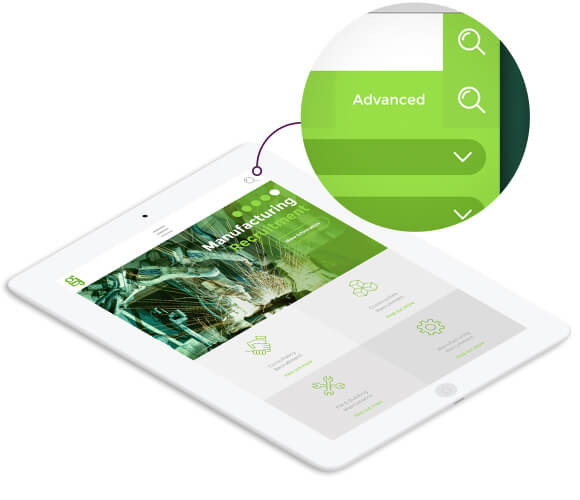 ""Leading multi-disciplined 'boutique' recruitment consultancy seeks leading digital 'boutique' agency to design and build a new recruitment website to showcase the client's unique personality""
We've been working with the Solution Recruitment team since 2008 and love how far they have come as an agency. As a supplier, we couldn't be prouder watching their business grow each year and become more in demand within the construction recruitment industry. And we have to take some credit for their brand positioning. We've designed and built a number of websites for Solution in the past. As their business changes, so does their digital strategy. But it was now the right time to create an all encompassing website that would showcase their brand, personality, attract new staff, encourage new clients and not forgetting, showcase all of the roles they have to offer across a number of disciplines. So candidate attraction was to play a big part.
Scope, Scope, Scope!
Scoping a website is the most important part. It affects the entire design and build process and is the foundation to a good working platform. As an agency, we work with a client to give them exactly what they want – and more! We look at the number of pages, the hierarchy, consider search engine optimisation, look at job search criteria based on the business and of course, the flexibility for our clients to take control of updates when the site is ready to go live. And if a client hasn't time, we can offer website updates on a retainer basis.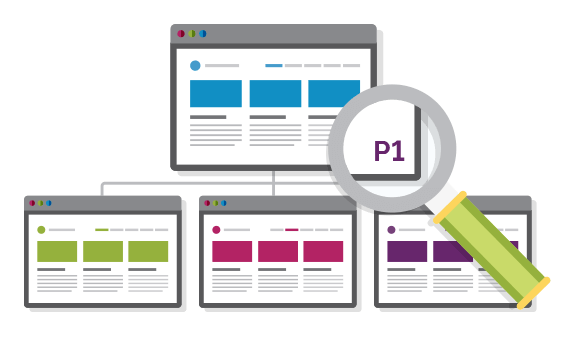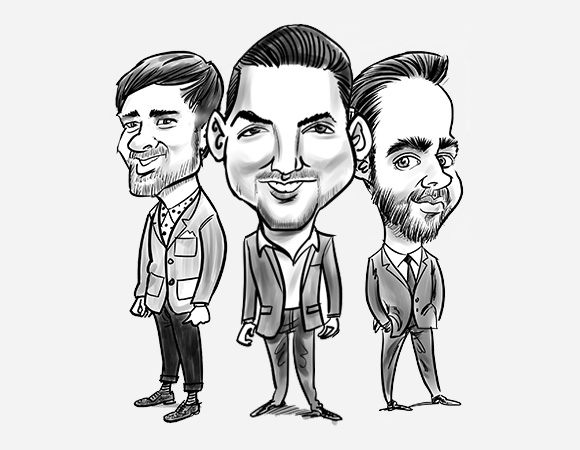 Don't change a brand that doesn't need changing!
Having taken a brief in detail at the client's London office, we decided that with a brand already established, we and the client didn't want to change the overall look and feel too much. As an agency it's important that we provide honest advice and if a brand doesn't need changing – then don't change it! Personally for Sowerby, honesty is the best policy and if something like a design isn't broken – then why fix it?
So for the website design we utilised elements such as the team caricatures, skyline hand drawing and other key branding elements to ensure that the overall look / feel remained consistent with the client's other forms of marketing material. You can check some of this out under the Solution 'Social' section.
Various page templates were presented to the client to ensure final sign off including the homepage, other internal pages, category pages, social media, contact us (including a Google Map for both office locations – a must have for SEO purposes) and more. Oh, and let's not forget, responsive page designs too for mobile and tablets!
Removal of an Applicant Tracking System
From the outset it was decided that Solution wanted to remove their applicant tracking system for the uploading of client vacancies. Whilst an ATS can be a fundamental part of the job application process, it can be expensive to maintain. With companies like Solution expanding and with more team members joining, it was extremely important that their main website could act as a job board with applications going directly to the consultant.
Sowerby worked extremely hard on this section of the website. We have to ensure that this section works perfecting. From searching for a job, to viewing a job, to applying – there is a lot of technical work to consider. Not just that, we need to ensure the hosting server is able to store information too so that nothing gets lost in transit.
In addition to a job search function, Solution wanted to build a form to allow people to upload CV's as they are on the move, without having to apply for specific positions. It's all about candidate attraction.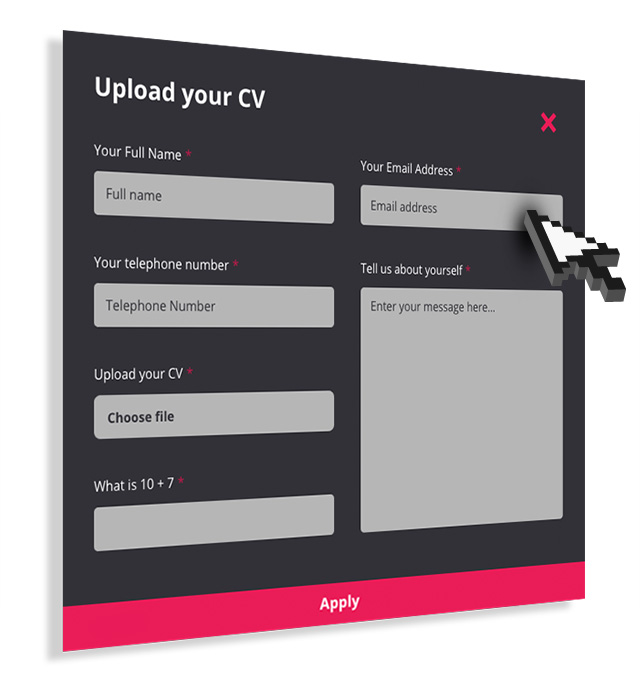 Off the shelf CMS but with a bespoke build
Here at Sowerby, we don't believe in template designs and nor do we believe in a templated backend system. That's where we believe we are different. We're extremely proud of our backend development and clients like Solution get to enjoy the benefits of this. Simplicity of updating, adding and removing pages, inserting images and more!
Once page templates have been approved, our team move on to the website build, building various page templates within the CMS system, WordPress in this case. Why do we use WordPress? It's reliable, trustworthy and is constantly evolving. Once built, we provided our clients with a testing site where they have the opportunity to move around the pages freely, using and testing the website as they would when live. Content population is offered as part of our build process as well as image insertion and manipulation so we take all the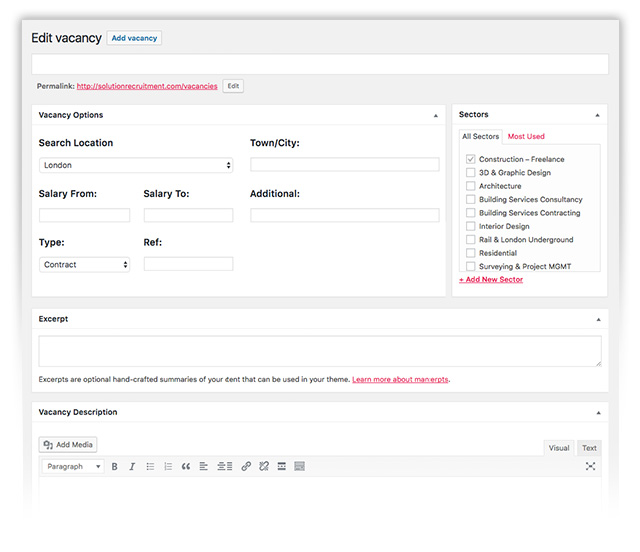 The end result…
Take a look for yourself. www.solutionrecruitment.com A fully functional, responsive website specific to the recruitment industry. Client and candidate driven, built with Search Engine Optimisation friendly code for us to take the client's digital strategy to the next level.
"WE'VE GOT 175 FURNITURE AND ELECTRICAL STORES AND
ADVERTISING REQUIREMENTS FOR ALL…"
Yes, that's right, Sowerby is working with this fantastic charity and handles all advertising for 175 ( last time counted ) furniture and electrical stores across the UK. We liaise daily with numerous national, regional, local and trade publications offering the BHF advertising space at competitive rates. We liaise with area managers, shop managers and marketing on the approval of advertising costs and artwork designs.
BREATHE – DEALING WITH 175 STORES
ISN'T AS STRENUOUS AS IT SEEMS…
It's simple, we're a very well organised agency / team and have systems in place for absolutely everything! Contacts, orders, reference numbers, spreadsheets, invoicing procedures, set artwork templates and yes even more spreadsheets. This allows the advertising / ordering process for each contact at the BHF to be as simple as possible.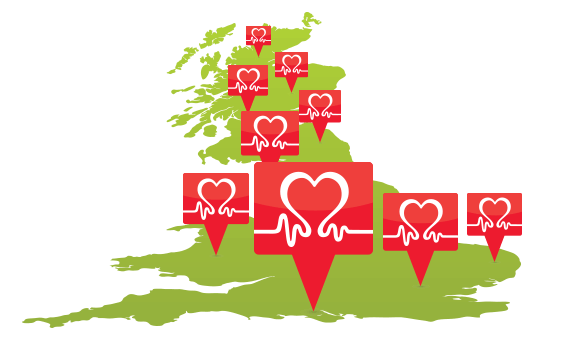 WHAT PAPER?
Because we're a media buying agency, we have contacts with all of the press. Local, national, trade, online and offline – we know who to deal with. So for us, when a store wants to advertise, we make a quick call to see what space is available and for what rate. We'll then liaise with the area managers on approval and confirm each booking with the media if required. Once booked, we'll work on the artwork and send across to marketing for sign off! We have a number of templates in situ so a booking can take less than 30 minutes.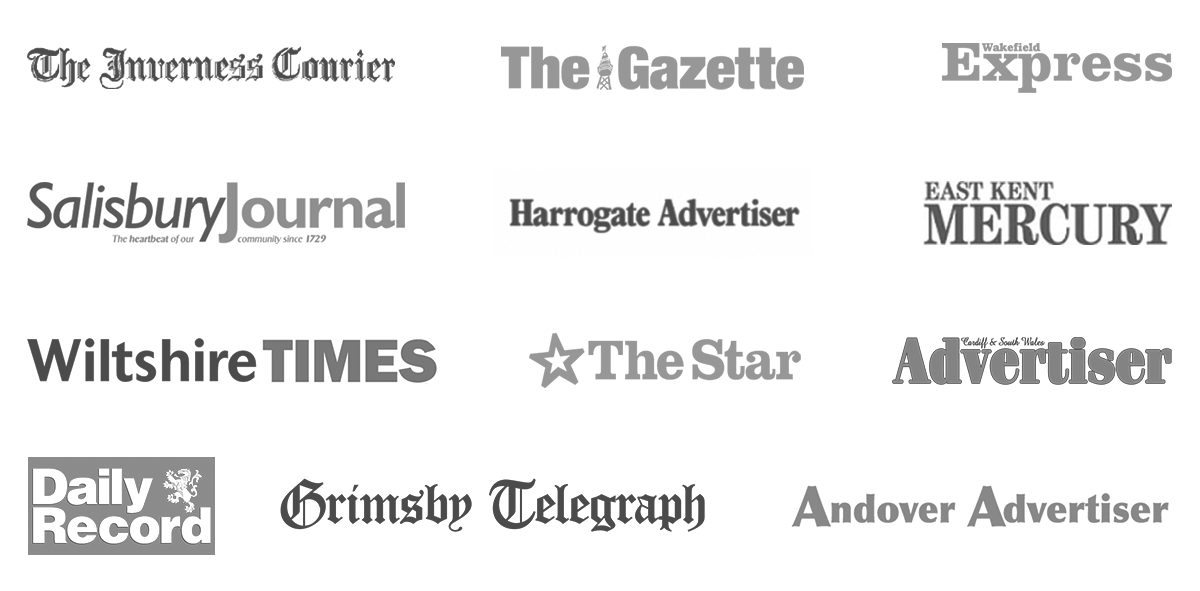 JOB DONE
With the advert sent to press, we'll update all the ad schedules in place to ensure that marketing and the area managers' figures balance. And at the end of the month, we'll send an invoice outlining all of the transactions to the client – meaning that they save time and money on resources.
Happy client. Happy agency.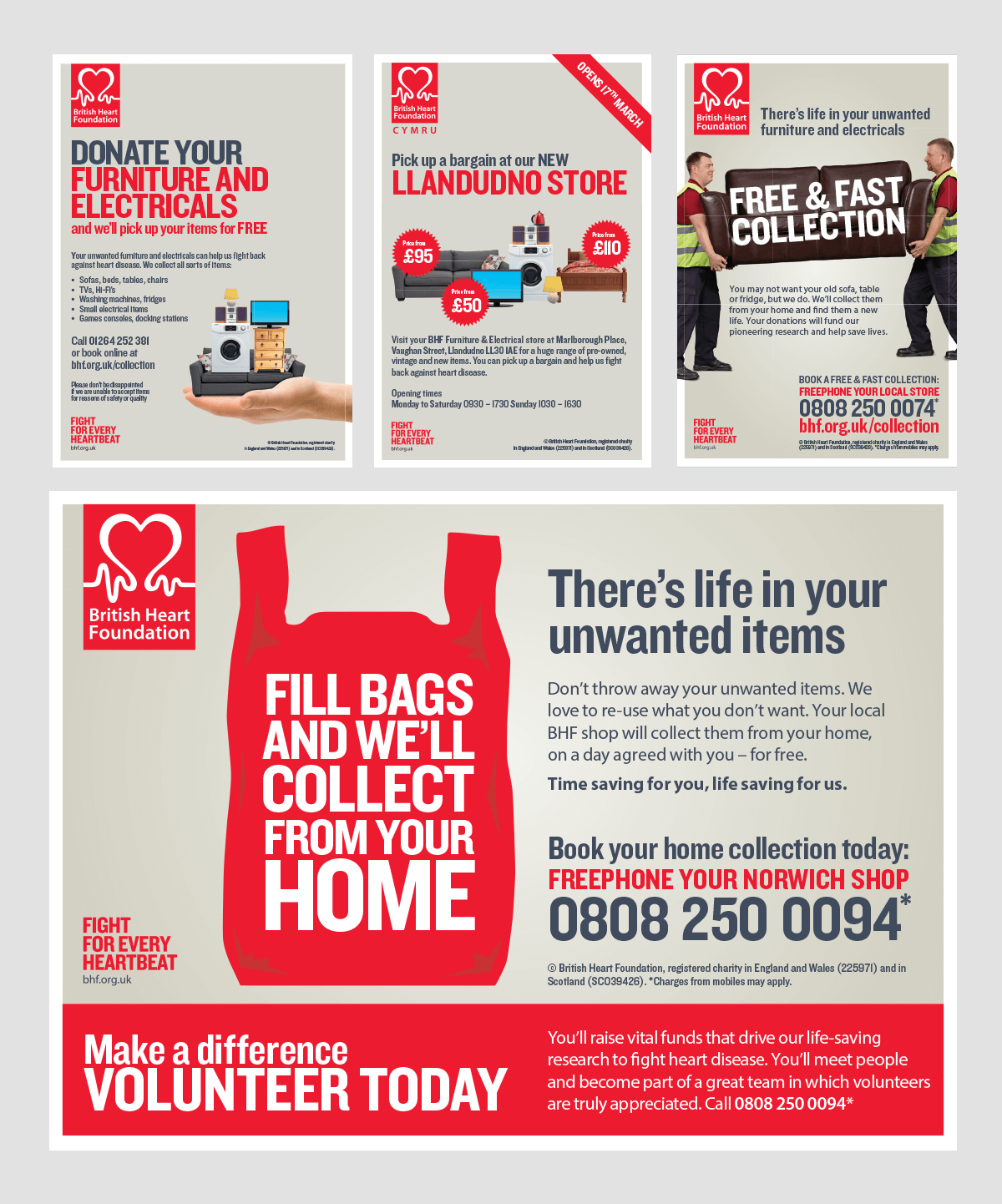 HOW DO YOU HELP A COMPANY WITH NO NAME OR BRAND?
You discuss and we listen.
At a briefing meeting, it's really important for a creative agency to discuss ideas and to listen to what the client wants and needs. Yes you may challenge them, after all that's what we creative people do, but top on the agenda is to fact find.
We meet with the client, grew to know their personalities, their aims and goals, and listened to their aspirations and their wants in terms of where they want to take their business. We understood their industry ( having worked with other clients in the same sector ), but wanted to gain more information such as their target audience, what made them different and more. Vital information required to create the perfect brand identity.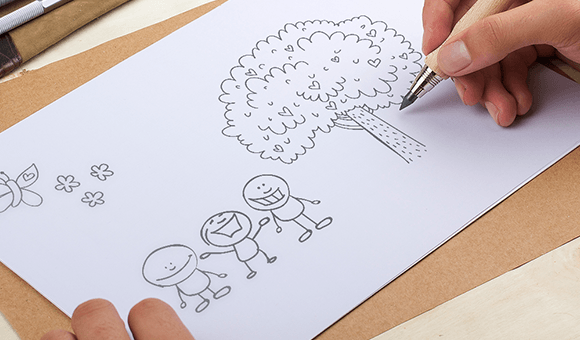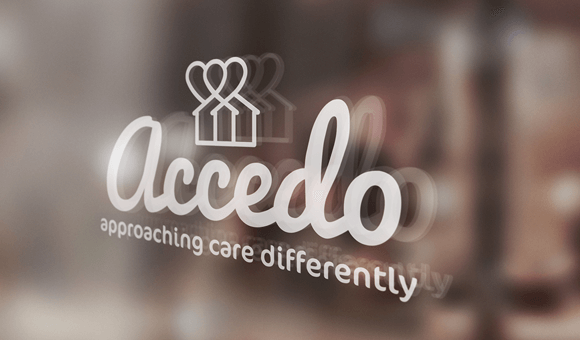 It's all in a name.
First project – company name. We wanted a name that meant something. A name that would suit their business, their market and their individual personalities. So, sat around the boardroom table with endless cups of teas and maybe a take away too, the creative team thrashed out some ideas. Carena Care ( beloved ), Totus Care ( entire ), Tirion Care ( kind, gentle ), Decorus Care ( beautiful, graceful ), Care Dedico ( to dedicate ) were amongst the initial ideas, all with perfect Latin meanings for a new care organisation. But Accedo won hands down ( Latin meaning to approach ).
After all the bad press surrounding care homes – the aim for the company was to approach care differently. It just felt right.
Logos, colours & fonts
Bright and bold colours were in fashion at the time, so in the normal Sowerby way, we wanted to do something different. Soft, pastel, complimentary colours were the route for us. In terms of the logo design, the client wanted to incorporate hearts. So in a subtle way, we built this into the logo design alongside a key concept to represent people with a feeling of residential, care, safe and secure. How anyone should feel within their home.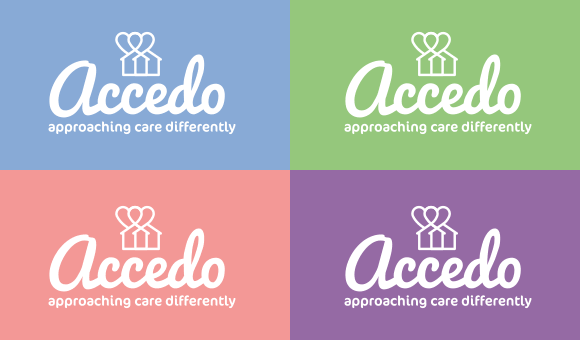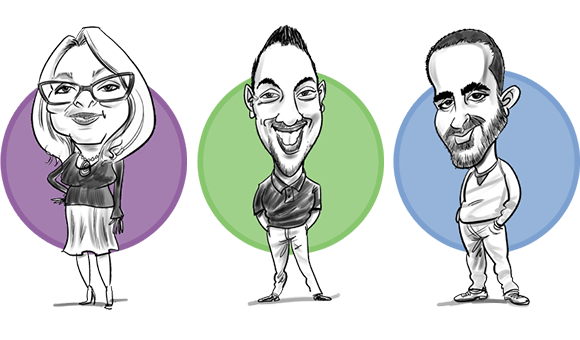 Adding personality to a brand
It was really important for us to add personality to this brand. What do you see in care homes? Pictures of people being cared for. Not the route we wanted to take for Accedo. You see illustrations of happiness, encouragement, care, homes and futures. Coupled with good use of typography and meaningful images ( Accedo is ) and caricatures of staff, the outside world can gain a really good feel for the organisation and the people working within it.
Taking things digital
A website designed and built fit for purpose. A WordPress content management system ( CMS ) to update on a regular basis with news articles, updates on services and much more.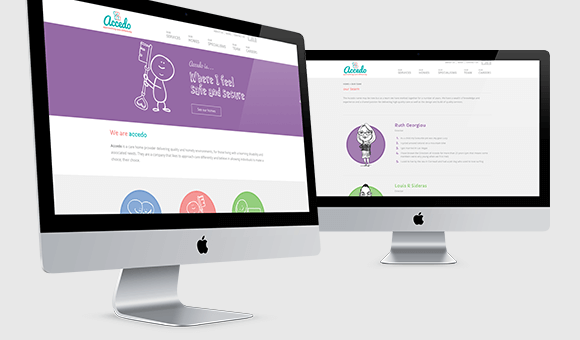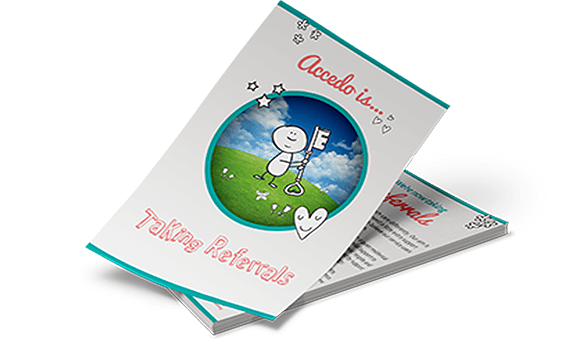 Taking the brand further – design & print
It's important to carry the brand through for all marketing material. Here are some examples of the marketing materials designed & produced by the Sowerby team.
Policy booklet
Flyers – various types
Email signatures
Email signature
Acrylics