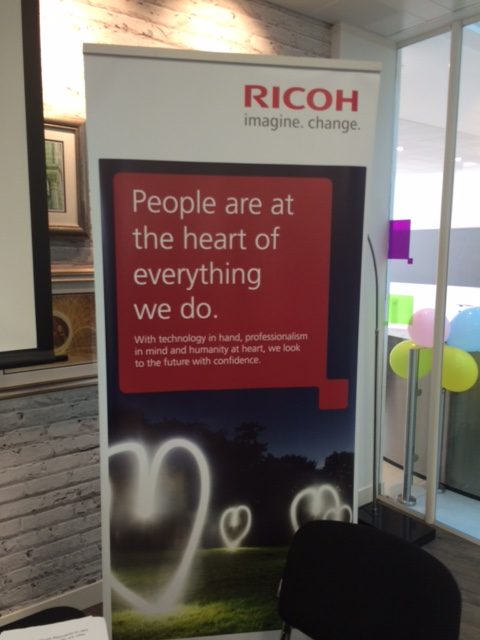 A combined regional radio, print, online and social media campaign paid off nicely at Ricoh's UK Recruitment Open Day on Thursday 1st September which was held at Ricoh's Head Office in Northampton. The client gave us a budget. We obliged!  They gave us a very strong message about their recruitment requirements – we listened and acted, and the best part of all was the fact our Client Relationship Director, Sue Sowerby was there to ensure all went without a hitch.
Sue said "With a range of positions with the IT Service Desk, Sales and Procurement teams, we were slightly anxious about the timing because it was held during a Bank holiday week. However we received 198 online applications and over 140 walk-ins on the day." Sue added: "Being onsite with the client meant we could see first-hand how the event developed throughout the day. From a slow trickle of job seekers at around 8.30am to various spikes of visitors during peak times of the day, we were able to manage our client's expectations who were able to spend valuable time with their candidates. After registration, we had a number of presentations from the Ricoh team to ensure that all our visitors had a real chance to understand the business. In addition, each was offered a Corporate tour of the high-tech building where they met with teams from Human Resources and Corporate Responsibility while also learning about the benefits, training and development opportunities within this blue chip organisation."
Sue was also on hand for another reason; to find out how people got to know about the event. "There was a strong mixture of response via every media we used and in addition the Ricoh UK employees were excellent networking ambassadors as many came through referrals." She added: "The day was such a huge success. Yes it was a tiring day (particularly wearing high heels!) but would I do it all over again, I certainly would – I would love to bottle the enthusiasm and gratitude from the client as well as the overwhelming comments from the candidates that I  'captured' on their way out of the uber-impressive building. The whole day was a great success and if there is one word that sums up the Sowerby / Ricoh Client / Agency relationship – it has to be "phenomenal". Great people make a great business and this was one great day!